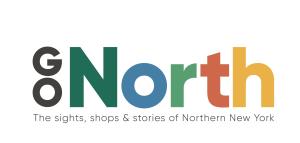 Tupper Lake, N.Y. – The Wild Center is pleased to announce GoNorth, a new itinerary-based tourism collaboration which will help draw more visitors – particularly international tourists - to Northern New York State. With coordination among more than 20 tourism organizations, attractions and businesses, the project team has created a new itinerary to highlight many of the great sights, shops, accommodations and stories found in this region. The Wild Center leads a team that includes the Adirondack Regional Tourism Council, the Saratoga Convention and Tourism Bureau, and the Warren County Tourism Department. "This type of project is sorely needed within the region and I am happy to see it moving forward and gaining momentum," said Ron Ofner of the Adirondack Regional Tourism Council.
 
The project features a new tour-based itinerary looping through Saratoga Springs, Lake George, Tupper Lake and Lake Placid, leading visitors through the region's uncommon world-class attractions. The Wild Center and team worked with Trampoline Design of Glens Falls, NY to design and package this itinerary which is being marketed to tourism wholesalers and retailers around the world. GoNorth enables visitors to experience the shops, eateries, and historic sights of Saratoga Springs, The Wild Center's Wild Walk forest canopy tour, Lake George's beautiful lake side attractions, the area's world-class accommodations and many more interesting places. The flexible proposed itinerary is based on an example 6-day, 5-night trip which enables the tour companies to choose the best options for their clients.
 
GoNorth was unveiled at the U.S. Travel Association's annual business conference, IPW, in Washington DC in early June. Team members presented the project to more than 150 tourism organizations, international tour companies and travel agents through one-on-one meetings. The project aims to recruit new tour companies and travel agents to highlight Northern New York in their travel product offerings online, in print catalogs, and brochures. "We found that for the international market, the Adirondacks is a tourism 'black hole.' There just isn't information out there to help draw people up and out of New York City," said Patrick Murphy, Group Sales Coordinator at The Wild Center and one of the GoNorth team members. "At the DC meeting, we found a tremendous amount of interest in GoNorth and heard nothing but gratitude from the companies with whom we met. They are looking for new areas to promote to their customers and we were happy to connect the dots to Northern New York as one of those new and exciting areas."
 
The project was coordinated by The Wild Center with funding provided by a grant from Empire State Development's I LOVE NEW YORK program under the Market NY initiative. It aligns with The Wild Center mission and strategic plan by helping to support the regional community and economy.  "After working with I LOVE NEW YORK for the past few years to promote The Wild Center and the Adirondacks in China, it became obvious that we needed an exciting new product to take to market that featured the amazing assets Northern New York has to offer.  From Saratoga, north through Glens Falls and through the entire Adirondack region, The Wild Center and our partners offer lesser known gems that have huge appeal to international travelers.  The problem is they didn't know about us. GoNorth solves that problem, and offers new economic development revenue streams for our region," said Hillarie Logan-Dechene of The Wild Center.
 
What's next for GoNorth? The team will continue to expand the offerings available through this itinerary and share its availability with tourism stakeholders. For more information, you can visit www.gonorthny.com or call Patrick Murphy: 1 (518) 359 – 7800 X 1116 or pmurphy@wildcenter.org, Tuesday-Saturday 9-5pm.

# # #
Contact: Tracey A. Legat, tlegat@wildcenter.org