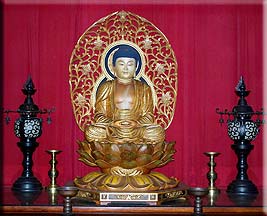 Hudson Valley Buddhist temples welcome visitors on January 1st
Hudson Valley, N.Y.
- Three Hudson Valley Buddhist temples welcome visitors on New Year Day, Sunday January 1, 2012 for celebrations of the Western New Year with a unique international flavor. Temples will offer international foods, tours of their facilities, and a chance to experience traditional New Year customs of China, Tibet, and Korea. Visitors can light candles, make aspirations, and observe or participate in ceremonies for the peace and happiness of all living beings. No charge, all are welcome.
Participating temples:
Dharma Seal Monastery
257 St. Andrews Road Walden, NY  12586 845-713-4537
http://www.dsmny.org/
Contact:  Venerable Xin-Xing Email: 
dsmusa@gmail.com
  Dharma Seal Monastery is a Chinese Mahayana Buddhist Monastery located in pastoral woodlands, reflecting an atmosphere of peace and harmony. Visitors can attend weekly English-language Dharma discussions and meditations, and see the Jade Buddha Peace Garden, Thousand Buddha Hall, Buddhist art gallery, and gift shop. Lodging and a healthy vegetarian lunch are available by appointment. Open year round.  New Year Day Open House 10:00 am - 4:00 pm includes traditional Chinese foods in celebration of the Buddha's enlightenment.
Korean Buddhist Wonkaksa
260 Clove Road Salisbury Mills, NY  12577 845-497-2229 FAX:  845-496-3126
http://www.wonkaksa.com/
Contact:  not given Email: 
newyorkwonkaksa@yeahoo.com
      Wonkaksa was founded in 1974  by Korean Zen Master Seung Sahn of the Jogye Order. The first Korean Buddhist temple on the east coast, it is known for its teachings of Buddhism in America. The monastery has its own lake and mountain surrounded by beautiful countryside. Programs and ceremonies are offered in the Korean language, but its doors are always open for everyone. Open year round. New Year Day Open House 11:00 am - 4:00 pm
Tsechen Kunchab Ling Temple
12 Edmunds Lane Walden, NY  12586 301-906-3378
http://www.sakyatemple.org/
           Contact:  Venerable Khenpo Kalsang Gyaltsen Email: 
sakya@sakyatemple.org
       This Tibetan Buddhist monastery is located in a park-like setting graced by a huge traditional temple adorned with fine Asian art. It is the U.S. seat of His Holiness Sakya Trizin. Relax and meditate on the spacious grounds fluttering with prayer flags dedicated to happiness for all living beings. Weekly English-language programs include meditation instruction and videos on how to relieve stress taught by world-famous Tibetan masters. Vegetarian meals and overnight stays by pre-arrangement. Open year round. New Year Day Open House 10:00 am to 4:00 pm.
###
Contact
:  Reverend Chodrung Kunga (301) 906-3378
sakya@sakyatemple.org