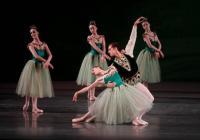 Opening Night on Tuesday, July 5 at 8 p.m.
Saratoga Springs, N.Y.
- The 2011 Season of New York City Ballet at Saratoga Performing Arts Center presented by HSBC Bank, July 5 - 16 will feature two weeks of stunning, world-class ballets. Among the highlights of the season is the major revival of Peter Martins' enchanting story ballet,
The Magic Flute
, Balanchine "black and white" ballets including
Agon
and
Apollo
, Jerome Robbins' multi-media
I'm Old Fashioned
, the Gala premieres of new works by Susan Stroman and Benjamin Millepied and the Saratoga debut of "See the Music" pre-curtain talks by NYCB Music Director Fayçal Karoui. "New York City Ballet brings artistic excellence to the forefront with a gorgeous program of masterpieces interwoven with striking contemporary works and new choreography. We are particularly pleased to present the major revival of Peter Martins'
The Magic Flute
, after an absence of nearly three decades.  With a beautiful score, wonderful costumes and elaborate scenery, this production - perfect for children and families -- will be one of the summer's biggest draws," said Marcia J. White, SPAC's President & Executive Director.  "The brilliance that City Ballet dancers brought to their Lincoln Center stage this spring had critics exclaiming that the quality of the company's dancing has never been more extraordinary. Saratoga audiences will see that breathtaking artistry in a spectacular season that showcases the finest works of Balanchine, Robbins and Martins as well as newer choreographers such as Christopher Wheeldon, Susan Stroman and Benjamin Millepied. It's truly a program that will remind audiences of why New York City Ballet is the foremost dance company in the world," she said.
HIGHLIGHTS
THE MAGIC FLUTE
Peter Martins' major revival of this enchanting story ballet highlights the season. Returned to the NYCB repertory last fall after an absence of nearly thirty years, this new version features beautiful costumes, new scenery designed by Tony Award-winning designer David Mitchell, lively dance sequences and a story of young love. 
GATSBY BALLET GALA
The sole fundraiser to support NYCB's Saratoga residency, this year's
Gatsby Gala
on
Saturday, July 9
features a special NYCB program featuring Susan Stroman's Duke Ellington tribute,
For The Love Of Duke,
Benjamin Millepied's contemporary,
Plainspoken
and Peter Martins' elegant
Thou Swell
, with Richard Rodgers music and on-stage jazz trio and vocalist. A new
Gala "Lawn Party"
with live music and dancing, fireworks, flapper contests and more will be presented by SPAC's Junior Committee.
BALANCHINE "BLACK AND WHITE" BALLETS
Widely considered one of the most important dance works of the twentieth century, Balanchine's 1957 masterpiece
Agon,
described as one of the defining moments of mid-century ballet, is among the highlights of the season.
Agon
,
Apollo
and
Square Dance
, all part of the season, are among Balanchine's "black and white" ballets - works which showcase a more minimalist aesthetic, emphasizing movement rather than storytelling.
JEROME ROBBINS
The season's Jerome Robbins' ballets include
I'm Old Fashioned,
his tribute to Fred Astaire, that features NYCB dancers performing in concert with a film sequence from the movie,
You Were Never Lovelier
starring Fred Astaire and Rita Hayworth, and the charming
Circus Polka,
which takes place in a circus ring and features a ringmaster and 48 young dancers.
CAPITAL REGION CHILDREN DANCING WITH NYCB
More than 30 children from in and around the Capital Region auditioned and were chosen to dance with New York City Ballet during its Saratoga residency. The young dancers will be filling roles in Peter Martins'
The Magic Flute
and  Jerome Robbins'
Circus Polka
.
SEE THE MUSIC with FAYÇAL KAROUI
Making its SPAC debut will be City Ballet's highly praised new pre-curtain talks,
See The Music
,
offering an inside look at NYCB's unparalleled musical repertory and 62-piece orchestra
.
On July 6, 12 & 14, NYCB Music Director Fayçal Karoui will introduce the evening's performance with a brief discussion, followed by the Orchestra performing an excerpt from one of the ballet scores on the program.
"GLEE NIGHT" and PRE-SHOWS
Pop culture and high culture come together on two evenings during the New York City Ballet season at SPAC. New "Glee Night" Pre-Shows feature the world renowned a cappella singers, the
Princeton Tigertones
and
Columbia University's
Nonsequitur
serenading ballet audiences before the curtain rises on July 7 and July 16. Glee Night joins SPAC's extensive schedule of popular Pre-Shows that include CDPHP "Family Nights" every Friday, Sage Colleges "Date Night" Series every Thursday, Emma Willard "American Girl Night" and more. Pre-Shows begin at 6 p.m. and are open to all ticketholders for the evening's ballet or orchestra performance.
GE KIDS IN FREE
Children and families can enjoy an evening at New York City Ballet at a great value thanks to GE's sponsorship of the popular GE Kids in Free promotion which entitles children 12 and under to free lawn admission for ballet performances (excluding the Gala and American Girl Night). Students of any age are entitled to $10 lawn tickets or 25% discounted amphitheatre seating, courtesy of Citizens Bank's Student Discount Program. For a full schedule of performances and Pre-Shows or to purchase tickets, visit spac.org or call 518-584-9330.
###
Contact
: Shane Williams-Ness, 518.584.9330 x 116 M:518.378.0295
shane@spac.org
Lisa Hill, 518.584.9330 x 119 M:518.496.2882
lhill@spac.org
;
http://www.spac.org/