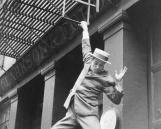 Tickets for Mercury Theatre's film comedy directed by Orson Welles are on sale beginning November 1
Rochester, N.Y.
-
Too Much Johnson
(1938), the rediscovered Mercury Theatre film directed by Orson Welles, received rave reviews at both its world premiere at the Le Giornate del Cinema Muto in Pordenone, Italy, and its North American premiere at the George Eastman House in Rochester, NY. A New York City premiere has been scheduled for November 25, 2013, after the enthusiastic response to the first screenings. "The experience of watching them on a big screen, projected from 35mm, with expert piano accompaniment from Philip Carli, and commentary from Paolo Cherchi Usai, was dream-like, exhilarating, and occasionally laugh-out-loud hilarious." -
Silent London
, UK's leading online resource for silent cinema. The November 25th screening will be hosted by George Eastman House and held at the Directors Guild of America Theater, 110 West 57th Street in Manhattan. The event begins at 6:30 p.m.
Tickets are available for $50 and can be purchased at eastmanhouse.org
.
Too Much Johnson
will be screened with live music accompaniment by Philip C. Carli, and live narration by Paolo Cherchi Usai, Senior Curator of Motion Pictures at George Eastman House. "To think that this American silent film has been in Italy for decades, abandoned in the very same city where a major silent film festival is being held-it is just mind-boggling," said Cherchi Usai. "What's more, this is a fairy-tale story with a happy ending, and we are thrilled to be able to share this film in the city that it was originally filmed."
Too Much Johnson
was originally intended to be used in conjunction with the Mercury Theatre stage adaptation of an 1894 play by William Gillette. The three-part slapstick film was meant to be shown as prologues to each act of the play with the accompaniment of music and live sound effects, but was never finished. Joseph Cotten was cast in the lead role, with supporting roles going to Mercury Theatre actors, including Eustace Wyatt, Edgar Barrier, Ruth Ford, Arlene Francis, Mary Wickes, Orson Welles, and his wife Virginia Nicolson. The play ultimately opened without the film on August 16, 1938, and flopped. When discovered, the nitrate work print of the film-left unfinished by the Mercury Theatre and never shown in public-was given by Cinemazero to one of Italy's major film archives, the Cineteca del Friuli in nearby Gemona. From there, it was transferred to George Eastman House in order to be preserved with a grant from the National Film Preservation Foundation. According to published sources, until now the only known print of
Too Much Johnson
had burned in a fire that destroyed Welles's home in the outskirts of Madrid in 1970. The original nitrate print of
Too Much Johnson
is preserved at Eastman House's Louis B. Mayer Conservation Center, one of the repositories for the museum's collection of 28,000 films. The bulk of Eastman House's preservation work for
Too Much Johnson
was completed at Cinema Arts, a film laboratory in Pennsylvania specializing in the restoration of archival material. "The Motion Picture Department at George Eastman House is one of the oldest and most prestigious film archives in the United States, and we were honored to host the North American premiere of this film this fall," said Bruce Barnes, Ron and Donna Fielding Director, George Eastman House. "We are proud to be a key contributor to the restoration of one of the greatest long-lost treasures in motion picture history." For more information about the New York City premiere of
Too Much Johnson
and the restoration process, visit
eastmanhouse.org/lostwellesfilm
. # # #
About George Eastman House
George Eastman House is located on the estate of George Eastman, the father of popular photography and motion picture film. Eastman House comprises world-class collections of photographs, motion pictures, photographic and cinematic technology, and photographically illustrated books. Established as an independent non-profit institution in 1947, it is the world's oldest photography museum and one of the earliest film archives. The archive houses 28,000 film titles and 4 million film-related publicity stills, posters, scores, scripts, and pre-cinema artifacts. Eastman House also holds the world's largest collection of camera technology. The Eastman House's L. Jeffrey Selznick School of Film Preservation is regarded as the premier venue of professional training in film preservation, restoration, and archiving. The Eastman House is also the archive in which many filmmakers have chosen to preserve their films, including Cecil B. DeMille, Martin Scorsese, Spike Lee, Ken Burns, and Kathryn Bigelow. Learn more at
http://www.eastmanhouse.org
.
About National Film Preservation Foundation
Headquartered in San Francisco, the National Film Preservation Foundation is the nonprofit charitable affiliate of the National Film Preservation Board of the Library of Congress. Since starting operations in 1997, the NFPF has helped 260 American cultural institutions save their films and has preserved some 200 "lost" American films found abroad, including those showcased on the DVD
Lost and Found: American Treasures from the New Zealand Film Archive
, to be released in September. For more information, visit
www.filmpreservation.com
.
About Cineteca del Friuli
Established in 1977, the Cineteca del Friuli is one of the five major archives in Italy dedicated to the preservation of the motion picture, and an active publisher of books and DVDs dedicated to the history of cinema. In addition to its extensive film holdings, which are safeguarded in a state-of-the-art conservation center in Gemona del Friuli, the institution holds one of Italy's largest film research libraries and a vast collection of stills, posters, and other film-related documents. For more information, visit
www.cinetecadelfriuli.org
.
About Cinemazero
A nonprofit cultural institution organization created in 1978, Cinemazero is cofounder with Cineteca del Friuli of the famed silent film festival, Le Giornate del Cinema Muto, held annually in Pordenone, Italy. Cinemazero runs a three-screen theater, a media center with thousands of books and videos, and a photographic archive documenting the work of film directors Pier Paolo Pasolini, Federico Fellini, and Andrei Tarkovsky. An active publisher of books, it also hosts exhibitions, conferences, retrospectives, and other events relating to cinema and photography. For more information, visit
www.cinemazero.org
. -----------------------------------------------
Attn. Media
Still images from Too Much Johnson can be downloaded here for use with press materials:
https://eastmanhouse.box.com/s/isdz6btp1og5elerg5yq
. A video about the restoration of the film can be viewed here:
http://youtu.be/IwfxH2r7SS
.
###
Media Contact:
Kellie Fraver
kfraver@geh.org
  (585) 271-3361 ext. 213