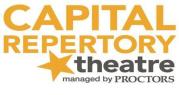 An afternoon exploration of New York's rich musical heritage featuring renowned musicologist
Rena Kosersky
and famed Albany-area folklorist/performer
George Ward
.
Albany, N.Y.
- Capital Repertory Theatre invites the public to
NEW YORK SINGS -
a lively, 90-minute discussion and performance with renowned musicologist Rena
Kosersky and famed folklorist/musician George Ward. The free event will be
held on Saturday, March 24, from 1 - 2:30 pm at Capital Repertory Theatre, 111 North Pearl
Street in Albany.
NEW YORK SINGS
explores New York's rich musical traditions, including 19th and early 20
th
century folksongs gathered in the Schoharie region, such as "A Dutch Lullaby" and "Billy Boy," that reflect the roots of New York's earliest settlers. "Events such
NEW YORK SINGS
are at the heart of Capital Repertory Theatre's mission," notes Producing Artistic Director Maggie Mancinelli-Cahill. "We look at the community as a source of inspiration, and seek to celebrate the upstate region in particular as a cultural destination point, both past and present. The relevance of this exceptional offering in concert with the upcoming
Black Pearl Sings!
at Capital Rep cannot be overstated." The March 24 event is co-sponsored by the University at Albany Department of History and Researching New York, a conference on New York State history sponsored by the department each November; and the UAlbany Documentary Studies Program.
Celebrating Diversity
In connection with the opening of
Black Pearl Sings!
and the performance of 
NEW YORK SINGS,
Capital Rep's high school interns, Teigin Legault (Heatley School) and Christian Meola (Guilderland High School), have curated a photography exhibit showcasing "diversity" on stage at Capital Rep. The exhibit, which will be on display from March 13 thru May 27, 2012, consists of a selection of production photos by Joseph Schuyler from Capital Rep's archives that highlight the diversity seen on the theatre's stage and through Capital Rep's Youth Education Programs. Schuyler's photography, which covers more than 25 years, has helped to capture the essence of the work at Capital Rep.
NEW YORK SINGS
is scheduled to coincide with Capital Repertory Theatre's regional premiere of
Black Pearl Sings!
, which runs from March 13 through April 7. A play with music by Frank Higgins,
Black Pearl Sings!
brings audiences back to the 1930s and an encounter in a Texas prison between Alberta "Pearl" Johnson, an African-American woman convicted of murder (played by Jannie Jones, who delighted audiences in last year's
Crowns
), and Susannah Mullally, a white academic collecting traditional songs for the U.S. Library of Congress (played by Jessica Wortham, known locally for her memorable work in
Boston Marriage
). When Susannah discovers that Pearl is a living storehouse of songs passed down from her African ancestors, Pearl must decide whether or not to trust her-not only with her songs, but also her only chance at freedom. Higgins has said that his work was inspired by the true story of song collector John Lomax, a white academic who met African-American musician Huddie Ledbetter, better known as Leadbelly, in a Louisiana prison in 1933. The March 24 discussion invites the general public to look more deeply into the legacy of collectors like Lomax. "It seemed like a terrific opportunity to bring New York scholars, performers, and the public together to discuss and celebrate the music of New York in the context of this play," said Sheila Curran Bernard, who organized the event with Mancinelli-Cahill and is a faculty member at the University at Albany. Bernard contacted Rena Kosersky, an expert in American folk music and music collecting, including the work of John Lomax. "By focusing on music in certain regions of the country, Appalachia and the Deep South, as Lomax did," Kosersky explains, "collectors often privileged that music as 'American'-a designation that overlooks rich traditions elsewhere." For the 90-minute presentation on March 24, Kosersky will team up with famed regional performer George Ward to introduce audiences to the rich song and folklore legacy of New York State. Of particular interest is Kosersky's research into the 19th and early 20th century folk and popular songs of Schoharie County as collected by Ida Finkell (whose "songster" or ballad book was kept from 1879-83) and Emelyn Elizabeth Gardner (
Folklore from The Schohairie Hills New
York
, 1937). "In New York, as in Texas, Louisiana, and elsewhere, music played a key role in establishing and preserving communities, and it can serve as a lens through which to understand the historical past, both before and after the advent of recording technology," adds Kosersky. "The music of New York is an important part of the musical traditions that illustrate the United States' dynamic and diverse population." Kosersky is planning to discuss a number of songs that George Ward will perform. While the program is not yet finalized, selections may include "Uncle Sam's Farm," a popular 19th century protest song; "Ding Darling," a tune also known as "It Was on One Morning in 1855;" "When the Stars Begin to Fall," a spiritual; and "Pretty Polly," a ballad with English, Irish, and American roots.
Black Pearl Sings!
Matinee part of March 24 event A matinee performance of
Black Pearl Sings!
will follow the discussion, beginning at 3:00 pm on Saturday, March 24, 2012. Tickets are required for
Black Pearl Sings!
. They can be purchased online at www. capitalrep.org, in person at the Tickets by Proctors Box Office, by phone at the Tickets by Proctors phone line, or in person two hours prior to the performance at the Capital Repertory Theatre Box Office. For more information on
New York Sings,
contact:
Sheila Curran Bernard
Assistant Professor, Department of History University at Albany, SUNY
sbernard@albany.edu
Thom O'Connor
Marketing Communications for Proctors and Capital Rep Phone: 518-382-3884 x 166
toconnor@proctors.org