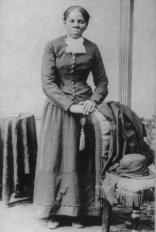 Enter the home of Harriet Tubman, walk the Underground Railroad, experience poetry, films, inventors and more
New York, N.Y.
- New York State (
www.iloveny.com
) is celebrating its rich African American heritage during Black History Month with an array of special events and cultural discovery opportunities across its 11 vacation regions. A sampling of events happening across the Empire State this February include:
Flight to Freedom: Rochester's Underground Railroad, Rochester, NY
"Flight to Freedom" explores the paths of courageous freedom seekers through Rochester's Underground Railroad in this dramatic, interactive exhibition. Walk in the footsteps of Austin Steward, Frederick Douglass, Harriet Jacobs and Reverend Thomas James as they overcome huge obstacles to build free lives. Learn how they joined Rochester activists in the fight to abolish slavery and help others seeking freedom. Young visitors can follow their own child-level "Songs of Freedom" story as little "Imani" makes the dangerous journey north with her family. The exhibit is included with museum admission and open Monday-Saturday from 9am-5pm and Sunday from 11am-5pm. Contact the Rochester Museum and Science Center (
http://www.rmsc.org/
) at (585) 271-1880 for more information.
Black Poetry Experience for Kids, Plattsburgh, NY
The North Country Underground Railroad Historical Association and the Plattsburgh Public Library presents "One Child Grows Up to Be: Poetic, Prose and Musical Reflections on African-American Greats" by Robin M. Caudell, poet and award-winning
Press-Republican
staff writer. The event takes place on Saturday, February 20 from 1-2pm at the Plattsburgh Public Library (
http://www.plattsburghlib.org/
) in the Children's Room located at 19 Oak Street, Plattsburgh, NY. Admission is free.
Harriet Tubman Home, Auburn, NY
Harriet Tubman was deemed "The Moses of her People" and moved to Auburn, NY in 1857. This 25-acre parcel of land honors her legacy and contains four buildings, two of which were home to Ms. Tubman. The home is open Tuesday-Friday from 10am-4pm and Saturday from 10am-3pm. For more information visit
http://www.harriethouse.org/
.
Black History Month At Your Long Island State Park, Long Island, NY
The New York State Office of Parks, Recreation and Historic Preservation (
http://nysparks.state.ny.us/
) is pleased to announce "Black History Month" at your Long Island State Parks. The month-long celebration includes exhibits of paintings from some of America's great black artists, as well as posters saluting black abolitionists, pioneers, scientists, educators, horticulturists, and ecologists. Ronald Foley, Regional Director of the New York State Office of Parks, Recreation and Historic Preservation will present this program at several Long Island State Parks. Exhibits will be on display for the entire month of February. Admission is free. For park locations and additional information, please call (631) 321-3510, weekdays from 9:00 am - 5:00 pm.
Step Into Black History Month, Albany, NY
This annual event showcases the historical traditions of African American and Latino fraternities and sororities, revolving around the "Divine Nine," the nine traditionally Black Greek organizations. The Divine Nine is made up of four sororities and five fraternities with each performing their own "Step" routine that dates back to their creation in the early 1900s. The well choreographed movements originated from their ancestors who, when brought to the mainland from Africa, used Stepping to recognize the four seasons and later to demonstrate solidarity and strength in the face of overwhelming odds. The event will be held on February 6 at 7pm at the Palace Theatre (
http://www.palacealbany.com/
) located at19 Clinton Avenue, Albany, NY.  Advance tickets are $17 for adults and $12 for children and students. Tickets are $22 for everyone the day of the show. Please contact (518) 465-3334 for more information.
Children Discover African American Inventors, Garden City, NY
Learn about the contributions of famous African American inventors, including elements of their lives and inventions. Kids create a memorable textured collage as they move from station to station learning facts about these famous Americans. The exhibit is February 21 from 1- 4pm and located at the Long Island Children's Museum at 11 Davis Avenue, Garden City, NY. All ages are welcome and admission is free with the purchase of regular museum admission. Please contact (516) 224-5800 or visit (
http://www.licm.com/
) for more information.
Black Moses: Remembering Isaac Hayes, Rochester, NY
In honor of Black History Month and in memory of Isaac Hayes, the Dryden Theatre will present films in February paying homage to Hayes. Oscar and Grammy-winning composer and recording artist Isaac Hayes (1945-2008) was one of the most vibrant and vital American performers of the last several decades, whether singing on stage or acting in feature films. The schedule includes
The Black Moses of Soul
, February 3;
Shaft
, February 10;
Truck Turner
, February 17;
Escape From New York
, February 20; and
South Park: Bigger, Longer & Uncut
, February 24. For more information, contact the Dryden Theatre (
http://dryden.eastmanhouse.org/
) at the Eastman House at (585) 271-3361
Roots of African American history, Rockland, NY
On Saturday, February 27 at 7pm, The Nyack Center will feature performances celebrating the stories of African Americans through song, dance and spoken word. Special individuals who have contributed to the lives of African American's in Rockland, NY will be honored. Admission is Free.  For more information call (845) 358-2600. The Nyack Center (
http://www.nyackcenter.org/
) is located at 58 Depew Avenue, Nyack, NY.
About
New York
State
New York State features 11 beautiful vacation regions.  New York's attractions span from landmarks such as Niagara Falls, to the wine trails of Hudson Valley and treasures like the Baseball Hall of Fame in Cooperstown.  Whether it's wide-ranging outdoor activities for the whole family like fishing, hiking and boating, culinary wonders and farm-to-table fresh foods, or the rich history and culture of one of the 13 original colonies, New York State offers diverse activities for all travelers.  For more information visit
http://www.iloveny.com/
.  Media can find press releases and more at
thebeat.iloveny.com.
# # #
Contact:
Lisa WillnerEmpire State Development Corporation (212) 803-3740
lwillner@empire.state.ny.us