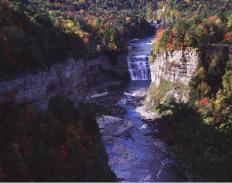 State's Official Fall Foliage Color Reports Begin September 12
Albany, N.Y.
- Okay, while we cannot say with
absolute
certainty that New York State has more leaves than anyone else, we
can
say that we believe New York's foliage bounty and beauty make it the most desirable autumn travel destination for "Leaf Peepers" nationwide. And it is a fact that New York State has almost as many acres of broad-leaved trees (which help give the region's foliage a spectacular color range) as the rest of the Northeast combined. The change in colors, from the greens of summer to the brilliant reds, oranges and yellows of fall, draws thousands of leaf lovers to the state's roadways and waterways, hiking and biking trails, small towns, scenic vistas, country fairs and harvest festivals every year. Starting
Wednesday, September 12 I LOVE NEW YORK's Fall Foliage Color Report
will be distributed weekly and continue until the end of the foliage season in early November. Each Wednesday throughout the season, reports are posted on
iloveny.com/fall
, ensuring that visitors can get the latest information on foliage conditions in each region of the state. When the leaves hit their peak, there's nothing better than a drive in the country. New York's mountainsides are a fiery display set against crystalline blue skies and are the perfect backdrop for an array of fun activities, including seasonal festivals celebrating everything from apples to garlic, farm stands with the freshest fruits and vegetables, and great local theater and music.  Whether you prefer discovering antique treasures or getting lost in a corn maze while you eat your warm cider donuts - it's all up to you.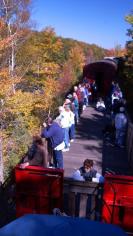 In the Finger Lakes region, enjoy the autumn scenery while taking a leisurely drive to a charming winery or small antique shop, then head out onto a lake for a boat cruise and get a different perspective of the leaves. Visit a historic lighthouse and check out fall food stops, like a local cider mill, in the Thousand Islands-Seaway region. In the Hudson Valley take in the breathtaking landscapes -- by bike or car-- that inspired a generation of artists, and then indulge in the culinary delights at one of the region's renowned restaurants. Stroll the sands of Long Island's famous beaches or enjoy one of its seasonal festivals, such as the Oyster Festival in October. In the Capital-Saratoga region, you'll delight in the patchwork quilt landscapes that inspired folk artist Grandma Moses and marvel at the showcase of 18th to 21st century architecture in the capital city of Albany. An idyllic mix of waterfalls, enchanting mountains, lush forests and sparkling streams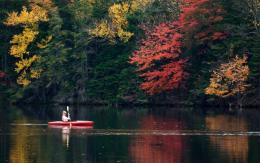 await you in the Catskills region, while the Adirondacks region provides countless hiking opportunities within a six million acre wilderness. Autumn beauty greets visitors in the Greater Niagara region, home to the mighty falls as well as Letchworth State Park, a.k.a. "the Grand Canyon of the East," while the beautiful natural landscape of the Chautauqua-Allegheny region offers endless outdoor activity with scenic trails, serene waters, nature centers, and New York's largest state park. Autumn is also the perfect time to explore the rich history, geological wonders and cultural opportunities of Central New York.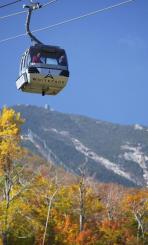 New York State's vast area means that you can enjoy peak conditions several times during the season in different parts of the state. The change in color from the bright greens of summer to the brilliant hues of fall follows a predictable pattern: It begins high in the Adirondack and Catskill mountains in late August and early September, and spreads out and down across the hills and valleys of the state, ending on Long Island and in New York City in early November. It takes about two weeks for the colors to complete their cycles in any given area, with peak brilliance lasting three to four days in any one spot. The foliage report includes a detailed map charting fall color progress, vantage points for viewing spectacular foliage and weekly event listings so you can plan your visit to one of New York State's 11 vacation regions accordingly. For highlights of the foliage report dial toll-free, 1-800-CALL-NYS (1-800-225-5697) each week from anywhere in the U.S., its territories and Canada.
Foliage Means Business for New York State
The spectacular colors of a New York State autumn mean more than just pretty scenery to those in New York State's $53 billion travel and tourism industry. The fall foliage season means big business; it's one of the state's most popular travel seasons and accounts for about 25 percent of all New York State travel. This so-called "shoulder season" has become a favorite time for weekend getaways and week-long vacations, as well as the traditional drive to the country to view nature's colorful display.
Join the Team!
Want to be part of I LOVE NEW YORK's foliage team? E-mail your name, address and phone number to
foliage@esd.ny.gov
to find out how to join the ranks of New York State's volunteer leaf peepers.
About New York State
New York State features 11 beautiful vacation regions. New York's attractions span from landmarks such as Niagara Falls, to the wine trails of Hudson Valley and treasures like the Baseball Hall of Fame in Cooperstown. Whether it's wide-ranging outdoor activities for the whole family like fishing, hiking and boating, culinary wonders and farm-to-table fresh foods, or the rich history and culture of one of the 13 original colonies, New York State offers diverse activities for all travelers. For more information, visit
http://www.iloveny.com/
. Media can find press releases and more at
thebeat.iloveny.com
.
# # #
CONTACT:
Eric Scheffel                    Empire State Development            (518) 292-5274                   
escheffel@esd.ny.gov
   Melanie Klausner M. Silver Associates (212) 754-6500 ext. 243
Melanie@msilver-pr.com