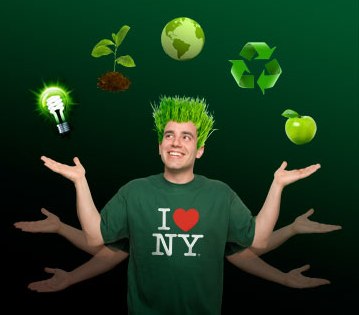 Launches Inaugural "Greenest New Yorker" Contest
New York, N.Y. -
I LOVE NEW YORK, (
http://www.iloveny.com/
), New York State's tourism promotion agency, and EscapeMaker.com are seeking to celebrate those individuals who are doing their part to keep the Empire State green with the first-ever contest to find "The Greenest New Yorker." I LOVE NEW YORK is looking for those New York State residents who are making earnest efforts to preserve the environment in their everyday lives and the lives of others. Entries for the "Greenest New Yorker" contest will be judged by a panel of celebrities and influential green New Yorkers. Among them are Chef, author, and restaurateur Mario Batali, who has six New York State based, award-winning Certified Green Restaurants®; Josh Dorfman, author of "The Lazy Environmentalist on a Budget," and Sundance Channel host of his own show "The Lazy Environmentalist"; actor Peter Facinelli, star of The Twilight Saga movies and Showtime's "Nurse Jackie" show; nationally renowned, eco-friendly and healthy home interior designer Robin Wilson, who's high profile projects include Robert F. Kennedy Jr's "Green House" and the renovation of former president Bill Clinton's Harlem office; and renowned architect Morris Adjmi, who's current work includes the LEED gold High Line Building and a LEED platinum building for New York University. The Grand Prize winner will be announced on Earth Day, Thursday, April 22, at a special press conference held by I LOVE NEW YORK. The winner will receive his or her choice of an I LOVE NEW YORK Green Getaway, which includes a three-day, two-night getaway package for two people to one of New York's Top Ten Green Destinations. To apply, contestants can log onto
http://www.escapemaker.com/ilovenygreen
, and in 250 words or less, tell I LOVE NEW YORK and Escape Maker why they deserve the title of "Greenest New Yorker." To be considered, New York State residents will need to describe how they've contributed to sustainable, eco practices and what they do regularly to maintain a "green spirit." The winner should illustrate a commitment to and leadership in protecting the environment while utilizing its natural resources. How feasibly an individual's green works can be replicated by others will also be taken into consideration. Submissions can be supported with videos and photographs. For a full list of contest entry rules and regulations, visit
http://www.escapemaker.com/ilovenygreen
.
About EscapeMaker.com
EscapeMaker.com is an online guide to local hotels, B&B's and vacation rentals, events and festivals, and weekend getaway and day trip destinations within a day's drive or train ride of New York City. For more information visit
http://www.escapemaker.com/
About New York State
New York State features 11 beautiful vacation regions.  New York's attractions span from landmarks such as Niagara Falls, to the wine trails of Hudson Valley and treasures like the Baseball Hall of Fame in Cooperstown.  Whether it's wide-ranging outdoor activities for the whole family like fishing, hiking and boating, culinary wonders and farm-to-table fresh foods, or the rich history and culture of one of the 13 original colonies, New York State offers diverse activities for all travelers.  For more information visit
http://www.iloveny.com/
.  Media can find press releases and more at
thebeat.iloveny.com.
# # #
Contact:
Lisa WillnerEmpire State Development Corporation (212) 803-3740
lwillner@empire.state.ny.us