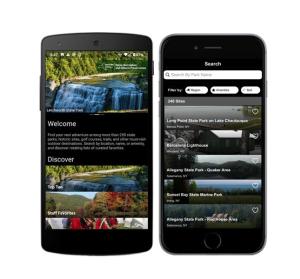 Free New York State Parks Explorer App Connects Visitors with the Outdoors
Today, the New York State Office of Parks, Recreation and Historic Preservation (State Parks) marked the beginning of the summer season by launching a new mobile app for smart devices to provide visitors and prospective visitors useful information about the variety of destinations and activities available throughout the Empire State's parks and historic sites.
The New York State Parks Explorer App is a free, user-friendly resource for visitors to plan outdoor adventures while staying connected to long-time favorite parks and sites. Users can learn more about top destinations and discover new must-see locations with rotating curated content, and will enjoy quick access to park information, including directions, hours, amenities, fees and rates, trail maps, helpful know-before-you-go details, and the ability to receive important updates and alerts.
Visitors can also link directly to online camping reservations and easily access select State Parks' social media channels to share their experiences. The New York State Parks Explorer mobile app is available at no cost for download for iOS and Android devices. To download, visit:
https://play.google.com/store/apps/details?id=gov.ny.its.nysparks or https://apps.apple.com/us/app/ny-state-parks-explorer/id1496803341
"This season more than ever, people are looking to spend time in the outdoors whether taking nature breaks, day trips or overnight getaways," said State Parks Commissioner Erik Kulleseid, "and this new Parks Explorer App is a helpful tool for families on the go to plan the perfect adventure with ease.  To stay in the know and make the most of your park visit, I encourage New Yorkers to download the app today."
New York State Executive Director of Tourism Ross D. Levi said, "With an unparalleled collection of parks, historic sites and recreation trails across the state, exploring New York's State Parks system is a perfect complement to any Empire State vacation. The new State Parks Explorer App will offer information and suggestions that help keep New York a top travel destination for residents and visitors alike."
Interim New York State Chief Information Officer Jeremy Goldberg, "The Office of Information Technology Services is proud to partner with the Office of Parks, Recreation and Historic Preservation to share technology that makes it easier for residents to visit parks across New York State. The Parks Explorer App allows residents to plan new outdoor adventures prior to visiting parks and demonstrates how NYS is harnessing the power of technology to bring New Yorkers closer to nature."
For the first time, this season also marks the introduction of user-friendly credit-card acceptance at collection points including pay stations, park offices and staffed lanes, so visitors are encouraged to take advantage of this cashless alternative.  Before heading to a state park or historic site, visitors are also reminded to practice social distancing, bring and wear a face covering, respect the rules, and do their part to keep the parks, beaches and campgrounds open and safe for everyone.
The New York State Office of Parks, Recreation and Historic Preservation oversees more than 250 parks, historic sites, recreation trails, golf courses, boat launches and more, which are visited by 77 million people annually. For more information on any of these recreation areas, call 518-474-0456 or visit www.parks.ny.gov, connect with us on Facebook, or follow on Instagram and Twitter.
###
Contact:
Dan Keefe  | Brian Nearing
(518) 486-1868 | news@parks.ny.gov