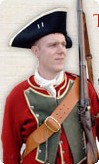 Over 2,000 Reenactors at Old Fort Niagara on July Fourth Weekend
NEW YORK, May 12, 2009
- Had it not been for the British and Iroquois victory over the French 250 years ago at Old Fort Niagara, visitors to New York State (www.iloveny.com) would perhaps be greeted with a warm "Bienvenue" rather than our customary "Welcome."  This year marks the 250th anniversary of the historic siege of Niagara, and Old Fort Niagara is planning a large-scale commemoration of the event from July 3-5. During the weekend, Old Fort Niagara will host a Living History encampment that will re-create the siege with over 2,300 re-enactors portraying British and French forces and American Indian warriors.  The weekend will also include extensive battle re-enactments, a nighttime artillery bombardment with fireworks and naval forces on the advance.  History buffs and enthusiasts may purchase tickets to witness re-enactors portraying in 18th century soldiers and artisans in period costume replaying scenes from 250 years ago.  Participatory activities for the public include hands-on activities such as 18th century children's games, woodland skills, soldier's drills and more. Today, Old Fort Niagara is a National Historic Landmark and New York State Historic Site that welcomes more than 100,000 visitors every year. It offers a unique collection of original military architecture and fortifications from the 18th century and the 19th century, as well as living history events and programs, historical exhibits and collections, archaeology and education.  The fort has become one of the most popular tourism attractions in the Niagara area, featuring the oldest buildings in the Great Lakes, spectacular scenery and exciting special events. For more information or to purchase advance tickets, visit
www.fiw250.org
or
www.oldfortniagara.org
or call 1-800-838-3006.
About
New York
State
New York State features 11 beautiful vacation regions.  New York's attractions span from landmarks such as Niagara Falls, to the wine trails of Hudson Valley and treasures like the Baseball Hall of Fame in Cooperstown.  Whether it's wide-ranging outdoor activities for the whole family like fishing, hiking and boating, culinary wonders and farm-to-table fresh foods, or the rich history and culture of one of the 13 original colonies, New York State offers diverse activities for all travelers.  For more information visit
www.iloveny.com
.  Media can find press releases and more at thebeat.iloveny.com.
# # #
Contacts:
Dara Yaffe/Terence Gallagher Lou Hammond & Associates Tel: (212) 308-8880; Fax: (212) 891-0200 E-mail:
daray@lhammond.com
/
terryg@lhammond.com
Lisa Willner  Empire State Development Corporation Tel: (212) 803-3740 E-mail:
lwillner@empire.state.ny.us