Creative Marketing Outreach and Focus on Value to Drive Statewide Tourism Revenues
New York (June 23)
- "I LOVE NEW YORK," (
www.iloveny.com/summer
) New York State's Tourism promotion agency, is hoping that New York metropolitan area consumers who have had it with work-day stress will be ready to let off some steam at the state's "pre vacation stress-free street clinics" stationed throughout Manhattan this week, and take advantage of the outstanding value opportunity for travel within the Empire State. I LOVE NEW YORK recently announced the resumption of its special summer travel promotion which provides a third-night free at more than 250 participating hotels around the State. In an effort to help raise awareness for the offer, the State is taking to the streets of Manhattan and utilizing guerrilla marketing tactics to spur interest. I LOVE NEW YORK representatives will be at various, high traffic locations throughout the week, including Pershing Square on Tuesday, June 23; at 7 World Trade Center on Wednesday, June 24; in Union Square on Thursday, June 25; and will finish on Friday, June 26
th
in the heart of Times Square.  They will hand out information on the promotion and encourage consumers to "de-stress" with free spa treatments offered by on-site members of the NY Spa Alliance. They will also be encouraged to take out their "high-impact" aggressions on a stress-relieving punching bag. According to Thomas Ranese, chief marketing officer of Empire State Development and head of the "I LOVE NEW YORK" campaign, the State feels consumers are eager for the type of nearby, affordable relaxation the State has to offer. "Last year's inaugural 'I LOVE NEW YORK' third-night free summer promotion resulted in more than 8,000 room nights sold and helped drive more than $6.5 million in direct revenue for the State," said Thomas Ranese.  "We're hoping to grow that number this year and feel that the promotion comes at a time when consumers are increasingly value-minded and looking for nearby escapes. This is a great time for them to discover the types of stress-free getaways that they may not have realized were so close within their own State." "We know these aren't the easiest of times for everyone," said Ranese, "so we wanted to get the attention of New Yorkers when they're up to their eyes in work-week thoughts and provide a light at the end of the tunnel that yes, they
can
afford to get away.  We're going to give them every last thing they need to make that happen." In addition to tapping into in-state resources like the Spa Alliance, "I LOVE NEW YORK" has joined with two transportation partners to creatively market the accessibility of New York State destinations.  Amtrak is offering a 20 percent discount on any New York State destination, and Enterprise Rent-A-Car is offering a 5 percent discount - they'll even pick travelers up right at the station.  The promotion runs through September 7, 2009. For more information or to book a New York State summer getaway, visit
www.iloveny.com/summer
.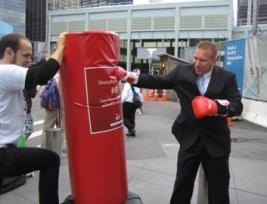 Photo Caption:
Who needs a coffee break when you have New York State?  The "I Love NY" campaign is giving New Yorkers a chance to "punch out" their stress and "punch up" tourism to the Empire State.  Strategically placed street teams are taking over Manhattan. They are inviting the public to take out their work-day frustrations on a punching bag before providing information on New York State's value-driven summer promotion: Stay two nights, get the third night free.  Free massages are also being offered from spa resorts that are members of the NY State Spa Alliance including Gurney's Inn (Montauk, NY) and Mirbeau Inn (Skaneateles, NY). A businessman (pictured here) takes a break to throw some punches with street teams in action at #7 WTC on Wednesday.  Street teams can be found elsewhere in the city on Thursday (Union Square) and Friday (Times Square on Broadway between 45th and 46th Sts.) Last year's statewide summer promotion generated more than $6 million in additional revenue for the state and "I Love NY" seeks to top that figure in 2009.
About
New York
State
New York State features 11 beautiful vacation regions. New York's attractions span from landmarks such as Niagara Falls, the Empire State Building and Allegany State Park to lesser-known treasures like the Baseball Hall of Fame in Cooperstown and the Museum of Glass in Corning. Whether it's wide-ranging outdoor activities like fishing, hiking and boating, culinary wonders and farm-to-table fresh foods, or the rich history and culture of one of the 13 original colonies, New York State offers diverse activities for all travelers. For more information visit
www.iloveny.com
. Media can find press releases and more at thebeat.iloveny.com.
Contact:
Lisa Willner 
Empire State Development Corporation(212) 803-3740
lwillner@empire.state.ny.us