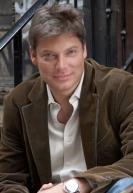 Andrew Gross to Share Insights on Newest Thriller at Lecture Luncheon
Saratoga Springs, N.Y.
- Andrew Gross, New York Times bestselling suspense author, will be the featured guest speaker at SPAC's fundraising Lecture Luncheon on Wednesday, October 26 at 10:30 a.m. at the Spa Little Theatre. Gross will be sharing insights on his latest critically acclaimed suspense novel, Eyes Wide Open and the real-life personal experiences that inspired the story. The lecture is the centerpiece of the fundraiser, which is organized and presented by SPAC's Action Council. The event also includes a continental breakfast, luncheon and complimentary copy of one of the Andrew Gross' books; tickets are still available at spac.org. "It is a thrill to be able to offer our guests the opportunity to hear Andrew Gross, one of the literary world's top suspense writers. He'll share insights on his latest book, Eyes Wide Open, and the two real life events that helped shape the plot, as well as highlights of his personal journey from CEO to bestselling author," said Marcia J. White, SPAC's President & Executive Director. "It will be a fascinating presentation; our Action Council has gone above and beyond once again in organizing a spectacular event." SPAC's Action Council, the largest volunteer fundraising arm of the organization, raises more than $150,000 annually for the arts center.  As a not-for-profit, each dollar raised for SPAC goes back into programming its world-class summer season of live performing arts, ensuring its role as the Northeast's premier arts venue and major economic engine for the region. Andrew Gross began his career in the business world, first at the Leslie Fay companies, a woman's clothing firm started by his grandfather, and then as president of HEAD Ski Company, which he grew to number one among upscale ski and tennis apparel manufacturers in the US. In the late 90s, he embarked on a writing career which took off when he teamed up with bestselling suspense novelist James Patterson, ultimately coauthoring five number one bestsellers with Patterson. In 2006 he began his solo career as an author, publishing The Blue Zone which debuted on the NYT bestseller list, followed by The Dark Tide, Don't Look Twice and Reckless. His most recent suspense novel, Eyes Wide Open, was released by HarperCollins in July. For the book, Gross drew on two, real-life experiences; the tragic suicide of his young nephew and an encounter years ago with an infamous cult-killer. The experiences are woven into the plot which centers around two brothers, one successful, the other wayward, trying to bridge the gap that has torn them apart. The book has received excellent reviews including one from the Associated Press that states, "'Eyes Wide Open' is intense, compelling. Gross has written his best book to date." The lecture-luncheon schedule is as follows:
10:30 a.m. Continental breakfast, Spa Little Theatre
11:00 a.m. Lecture by Andrew Gross, Spa Little Theatre
12:30 p.m. - Luncheon and mini boutique, Hall of Springs
Cost to attend the fundraiser is $75 and includes admission to breakfast, the lecture, luncheon and mini-boutique and complimentary copy of one of Andrew Gross' previous bestsellers. Nearly 20 local shops and boutiques will be onsite at the luncheon with an assortment of fine accessories, gifts, apparel and cosmetics for sale. Proceeds from the fundraiser will support SPAC's classical programming and children's education programs. Tickets may be purchased at spac.org or by contacting Linda Deschenes at 584-9330 ext. 115,
linda@spac.org
.
###
Contact
: Shane Williams-Ness, 518.584.9330 x 116 M:518.378.0295
shane@spac.org
Lisa Hill, 518.584.9330 x 119 M:518.496.2882
lhill@spac.org
http://www.spac.org/