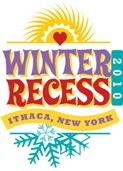 Ithaca, N.Y.
- More than 150 businesses in Ithaca are pooling resources on New York's biggest February travel deal, a communitywide event just for teachers. Ithaca's Winter Recess, Feb. 12-21, offers teacher discounts on shopping, dining, lodging, spas, entertainment and activities throughout the Finger Lakes community. Ithaca is the only city in the nation to celebrate teachers with a major annual festival. Now in its fourth year, this year's Winter Recess is expected to draw upwards of 5,000 school employees and family members from a dozen Eastern states during the Presidents Week school break. More than 1.25 million teachers share the break in New York and adjacent states. Deals include buy-one, get-one-free entrées at top local restaurants, free parties and services at local spas, free wine tasting at Finger Lakes Wineries and lodging rates discounted 30 to 50 percent. The Winter Recess calendar has more than 100 scheduled events including concerts by John Prine, Phil Lesh and Bob Weir. "Our community is built on education, so this event is a natural for us," said Fred Bonn, director of the Ithaca/Tompkins Convention & Visitors Bureau, event coordinator. "It gives us a chance to thank teachers for all they do and it shows off our community. It's a case where we can 'do good' and do 'well' at the same time." Winter Recess is open to preK-12 teachers, retired teachers and school district employees. Details are online at
http://www.ithacalovesteachers.com/
. Located in New York's Finger Lakes, Ithaca is a progressive community known for breathtaking gorge waterfalls, outstanding recreation and world-class thinking. Home to Cornell University and Ithaca College, the city's rich culture, fine lodging and abundance of top-quality restaurants make it an ideal winter getaway. Travel information is available at
http://www.visitithaca.com/
, or (800) 284-8422.
###
Contact
: Bruce Stoff Communications Manager Ithaca/Tompkins Convention & Visitors Bureau (607) 272-1313
Bruce@visitithaca.com