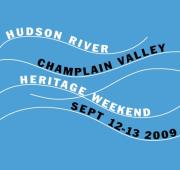 Over 100 Historic Sites Open Their Doors And Feature Special Events And Tours
During a year filled with celebratory events, the 2009 Hudson-Fulton-Champlain Quadricentennial Commission has partnered with the Hudson River Valley National Heritage Area and the Historic House Trust of New York City to inaugurate the state's first ever New York Heritage Weekend, Sept. 12 and 13. Visitors will be welcomed free, or at a reduced rate, to many museums, historical societies, and heritage areas; to architecturally significant buildings; and to battlefields, parks and historic districts in the the Adirondacks, Capital-Saratoga, Hudson Valley and New York City regions. In addition, communities throughout the regions are planning tours, special events and concerts that will highlight this first-ever celebration of New York's unique cultural heritage. Participating counties include: Albany, Bronx, Columbia, Dutchess, Essex, Greene, Orange, New York, Putnam, Queens, Rensselaer, Richmond, Rockland, Saratoga, Kings, Ulster, Warren and Westchester. Among the more than 100 historic sites, museums and churches welcoming visitors during New York Heritage Weekend are the National Historic Sites of Franklin and Eleanor Roosevelt and the Vanderbilt Mansion at Hyde Park; historic homes including Locust Grove, Boscobel, Manitoga, Lyndhurst, Clermont, and Olana; museums such as the New York State Museum, the Hudson River Maritime Museum, the Firefighting Museum, the Frances Lehman Loeb Art Center, and the Museum of the American Indian; forts and battlefields, among them Fort Montgomery State Historic Site, Fort Ticonderoga, New Windsor Cantonment and the Stony Point Battlefield, and Saratoga State Historic Site; New York City's 22 Historic House Trust properties; and the Preservation League of New York State's "Seven to Save" Quadricentennial sites, such as the rarely open Fort Montgomery at Rouses Point and the Plumb Bronson House, which is being restored. Special thanks to the New York State Office of Parks, Recreation and Historic Preservation and the National Park Service. For further information on Heritage Weekend sites, please visit the New York Heritage Weekend website
http://www.heritageweekend.org/
. When journeying to and from the Heritage Weekend festivities, we encourage you to travel by rail and take advantage of Amtrak's I LOVENY discounted fare, of 20% off, valid for travel at all Amtrak stations within New York State. You can make your reservation at Amtrak.com or by calling 1-800-USA RAIL. (Please use code V122 making your reservation.) Amtrak and Enterprise RentaCar are also teaming up to offer Amtrak passengers a discounted rate on car rentals. Dial 1-800-Rent-A-Car for more information and reference account # NYRAIL l and PIN #AMT. Modeled after France's popular annual event, "Les Journées du Patrimoine," the inaugural New York Heritage Weekend will focus on the history and culture of the Hudson River and Champlain Valleys showcasing these regions to residents and visitors alike. While New York Heritage Weekend is designed to enhance the state's tourism economy, it is also an opportunity for residents and visitors to discover - or rediscover - many historic and architectural treasures in their own communities. This was reinforced by Quadricentennial Commission Chair Joan K. Davidson, who commented, "Heritage Weekend is a chance for New Yorkers and visitors from everywhere to tour fascinating places, some open for this weekend only! It's for people who know and love New York's history and for families with children of all ages who want to learn about what is special in their own communities. We hope you will help launch this new Empire State tradition by visiting a wide array of historic sites - and hiking a trail or putting a kayak in a beautiful New York waterway. This year the history, heritage and splendid natural resources of the Hudson and Champlain Valleys await us all. Excelsior!" New York Heritage Weekend will take place during the 10th annual Hudson River Valley Ramble sponsored by the Hudson River Valley National Heritage Area and Hudson River Valley Greenway. Over 200 partner organizations are involved in the Ramble, which features hikes, bike tours, historic site walks, paddles, festivals and river exploration events for the public in communities throughout the Hudson Valley.
www.hudsonrivervalley.com/ramble
The first ever New York Heritage Weekend is also a partner of New York City's Historic House Trust, celebrating its 20th anniversary in 2009. Comprising 22 historic house museums in parks throughout the city's five boroughs, the Historic House Trust is sponsoring its second annual Historic House Festival during New York Heritage Weekend.
http://www.historichousetrust.org/
Lauding New York Heritage Weekend, Congressman Maurice Hinchey (D-NY) said, "The first ever New York State Heritage Weekend will highlight the historical, cultural, and natural assets of the Hudson River Valley and encourage New York residents and visitors to enjoy our region's offerings. This part of our state has unparalleled beauty and a very rich history, and Heritage Weekend will provide a wonderful opportunity for everyone to appreciate and explore more fully our region. As the author of the legislation that created the Hudson River Valley National Heritage Area, I am delighted to support efforts like these that promote and make accessible our region's scenic, recreational and heritage resources."
-30-
For further information and interviews:
Grace Friary Public Relations
gracefriary@comcast.net