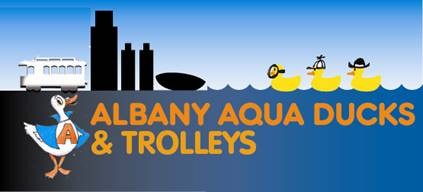 Albany, NY
- The Albany Trolleys have partnered with the city's three BIDS -- Downtown Albany, Lark Street and Central Area -- for a
Traveling Concert Series
. The second concert is from 11 a.m. to 1:15 p.m. on Wednesday, Aug. 5 (rain date is Aug. 6). On board will be singer/songwriter Bert Mayne with guitar in hand and inviting everyone to sing along to his special blend of folk, blues, country and more! Henry Hudson will be on the Trolley, too, as part of the Albany Trolleys' salute to Albany's Quadricentennial Celebration. At a time when budget cuts have eliminated some special events and entertainment, the Trolleys have pooled their resources with those of Albany's Business Improvement Districts to put a free show on the road for all to enjoy. The Trolley will make a series of 10- to 15-minute stops in Downtown, along Central Avenue and in the vicinity of Lark Street. Everyone is invited to stop by the Trolley and sing along!
SCHEDULE: 
The tentatively scheduled series of stops for the Traveling Concert are:
11 a.m. - In front of Price Chopper/Central and Colvin Avenues
11:20 a.m. - Townsend Park Apartments
11:50 a.m. - Bombers Burrito Bar, Lark Street
12 Noon - Lark and Spring Streets near the Daily Grind
12:20 p.m. - Capitol Park
12:40 p.m. - Ten Eyck Plaza
1 p.m. - Broadway near SUNY Plaza
MORE INFO:
http://www.albanyaquaducks.com/
or 518-462-3825.
###
MEDIA CONTACT:
Kathy Condon * Condon Communications 518-436-1103
kcondon@netheaven.com
CELL: 518-441-0259