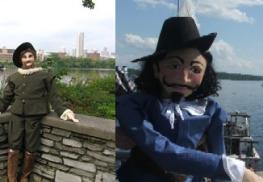 The Quadricentennial Meeting of Two Explorers:
Henry Hudson and Samuel de Champlain Will Finally Meet!
When
: Saturday, August 8, 2009
Where
: Lake Champlain Maritime Museum (LCMM) at Basin Harbor, Vermont              Westport Marina on Lake Champlain & Ballard Park in Westport, New York
Time
: 11 a.m. at the Lake Champlain Maritime Museum            1:30 p.m. at Westport Marina & Ballard Park
Details:
    Life-sized puppets of explorers Henry Hudson and Samuel de Champlain were created to celebrate in 2009 the 400
th
anniversary of Henry Hudson's exploration of the Hudson River and Samuel de Champlain's exploration of Lake Champlain. On Saturday, August 8, the
two explorers will meet for the first time.
In 1609, they missed each other by 6 weeks and 100 miles. Celebrate 400 years of history with your families by learning about these two famous explorers! The Henry Hudson and Samuel de Champlain puppet meeting will be part of both the Lake Champlain Maritime Museum's Small Boat Festival (August 8 & 9) and the Westport Heritage Festival (August 8, 2009). The great explorers will greet the public and share stories of their historic travels and recent adventures. Note: There will be a water taxi providing service between LCMM (VT) and Westport, NY on Aug. 8. The explorers will catch the 1 p.m. water taxi.
Background:
Both puppets were created for libraries and it has been a fun way to allow families to learn about their history and promote literacy. Henry Hudson is currently spending most of his time with libraries within the Upper Hudson Library System (NY) when he is not attending festivals and Quadricentennial events.   Samuel de Champlain is being used by the Fletcher Free Library in Burlington, Vermont and most recently appeared in the Quadricentennial Parade in Vermont. Henry Hudson Puppet was made in 2008 by a California dollmaker (
http://www.softsculpturedolls.com/
).  His clothing was made by Albany Heritage Area Visitor staff member, Chris Persans.  She also made four adorable smaller-sized historical puppets including a Mohican girl and a Dutch fur trader.  These smaller puppets are used extensively in school programming. Samuel de Champlain was made by Fletcher Free Librarian staffer, Christine Demarais.  He made his debut May 16, 2009 in Burlington, VT.
CONTACT INFORMATION:
"Henry's Chaperone"
Nancy Decker, Chairman of the Westport Heritage Festival
Dean Percival, Eloise Beil and Erick Tichouk at Lake Champlain Maritime Museum
802-475-2022      
percival@madriver.com
eloiseb@lcmm.org
erickt@lcmm.org
Rebecca Goldberg, Children's librarian at Fletcher Free Library in Burlington, VT
802-865-7216   
rebgoldberg@gmail.com
 "Sam's Chaperone