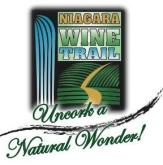 Niagara County, N.Y.
- The Niagara Wine Trail announced today that the Niagara Region has been named #7 in the Weather Channel's "Wine Region Travel Top 10" list, which includes world-renowned wine regions such as Italy's Tuscany and France's Loire Valley. The only other regions from the United States to be represented in the Top 10 are in California and Oregon. The Niagara region includes the Niagara Escarpment AVA and spans across the Niagara Frontier in New York and into Canada. Below is a link to the section of the article on the Niagara Region from the Weather Channel's website:
http://www.weather.com/activities/travel/vacationplanner/destination/top10/wine.html?id=7
For more information on the Niagara Wine Trail and our 16 member wineries, please visit
http://www.niagarawinetrail.org/
.
###
For more information contact: Elizabeth Rose Maute, Wine Trail Coordinator, Spokesperson Phone: 716-812-4866 E-mail:
lizrose@nigarawinetrail.org
http://www.niagarawinetrail.org/
Niagara Wine Trail USA on Facebook; @niagwinetrail on Twitter