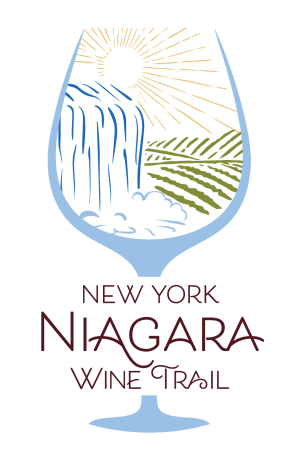 Niagara Falls, NY (June 26, 2023) – The Niagara Wine Trail is hosting its annual Wine Festival at a new venue, Saturday, July 1, 2023. The one-day event is being hosted over two sessions at the Niagara Falls Convention Center (101 Old Falls St., Niagara Falls, NY 14303).  The first session takes place from 1 to 3 p.m. and the second session takes place from 5 to 7 p.m.  A limited number of presale VIP tickets are available for each session one hour before opening to the general public (at 12 noon and 4 p.m., respectively). Presale tickets are available now at www.NiagaraWineTrail.org. General Admission tickets will also be available at the door. Prices are as follows:
General Admission: $10
Shopping and wine pickup service.  All ages welcome
Wine Tasting Admission: $40 / $45 at event
Same as above plus below:
3 tastes at each of the participating wineries with a tasting wristband for the session which you are tasting. (ID required age 21+)
Keepsake wine glass (while supplies last)
VIP Admission: $50 pre-sale only
Wine Tasting & General Admission benefits
Additional hour for wine tasting and shopping
Swag bag, corkscrew with bottle opener
$1 off each bottle of wine purchased during the VIP Hour (12-1pm or 4-5pm)
Participating wineries include:
·       A Gust of Sun Winery & Vineyard
·       Bella Rose Winery & Vineyard
·       Long Cliff Vineyard
·       Mayer's Lake Ontario
·       Schulze Vineyards & Winery
·       Victorianbourg Wine Estate
·       Vizcarra Vineyards
·       The Winery at Marjim Manor
There will also be more than a dozen local merchandise vendors and food concessions available for purchase from the Niagara Falls Convention Center.
"We are happy to continue the tradition of featuring all of our wineries in one place," said Shane Gustafson, owner of A Gust of Sun Winery and president of the Niagara Wine Trail. "We decided to move to a new venue this year so that our event wasn't weather dependent and to appeal to a wider audience in Downtown Niagara Falls, NY on the dual American and Canadian holiday weekend."
For more information or to purchase tickets to this and other wine trail experiences, visit www.NiagaraWineTrail.org. More information can also be found on the Niagara Wine Trail's Facebook and Instagram pages.
The Niagara Wine Trail celebrated its 20th Anniversary in 2022. The organization comprises 12 member wineries, situated between the Niagara Escarpment and Lake Ontario, stretching from Niagara to Monroe County. Each winery on the trail offers a diverse selection of traditional vinifera style, native, late harvest and ice wines, as well as unique styles such as award-winning fruit wines, meads and ciders. Its mission is to "work together to enhance the wine industry in the region through an array of intimate, authentic and charming guest experiences."
-30-