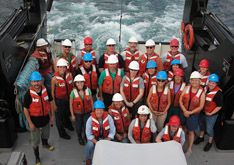 Buffalo, N.Y. -
New York Sea Grant is taking applications for a week-long teacher training cruise on Lake Ontario. The July 7-13 Shipboard and Shoreline Science Workshop takes place aboard the 180-foot EPA Great Lakes National Program Office research vessel the Lake Guardian, docking in Youngstown, NY. Applications will be accepted through April 30.   The unique learning opportunity for fifteen Grades 4-12 educators and non-formal youth educators teaches them techniques for including Great Lakes science and technology in their classroom curriculum.   New York Sea Grant (NYSG) Coastal Education Specialist Helen Domske, lead educator on the cruise, says, "This shipboard cruise is a meaningful and exciting to energize teachers as they personally experience the interaction of the Great Lakes' water, weather, aquatic species and other natural and manmade elements. They will collect and analyze data alongside scientists and work with colleagues to develop unique classroom teaching tools."   Participants will combine on-deck activities with classroom development of hands-on learning activities for their students. New York Sea Grant provides post-cruise follow-up assistance to facilitate classroom implementation.   Teacher Kristin Sheehan of Pulaski, NY, who participated in a Lake Ontario shoreline-based New York Sea Grant teacher training program in 2010, commented, "The best kinds of learning are hands-on."   Teacher participants receive a stipend to complete a stewardship project with their students. Funding is provided through the Great Lakes Restoration Initiative.   Application information is online at
www.nyseagrant.org/lakeguardian
..   For more information, contact Domske at the NYSG office at the University of Buffalo, 716-645-3610,
/wp-admin/hmd4@cornell.edu
.
###
More Information: These annual teaching cruises take place on a different Great Lake each year.   Teachers work alongside the research vessel scientists as they conduct their fieldwork.   2013 areas of study include species at the bottom of the food web, organisms living on the floor of Lake Ontario, and monitoring water quality.   This annual teacher training is hosted by the Center for Great Lakes Literacy and coordinated by the Great lakes Sea Grant Network and Great Lakes National Program Office.   The 2014 Shipboard and Shoreline Science Workshop will take place on Lake Erie.   New York Sea Grant (NYSG), a cooperative program of Cornell University and the State University of New York, is one of 33 university-based programs under the National Sea Grant College Program (NSGCP) of the National Oceanic and Atmospheric Administration (NOAA). Through its statewide network of integrated services, NYSG has been promoting coastal vitality, environmental sustainability, and citizen awareness about the State's marine and Great Lakes resources since 1971.   For updates on New York Sea Grant activities,
http://www.nyseagrant.org/
has RSS, Facebook, Twitter and YouTube links.
Contact
: Helen Domske, NY Sea Grant, 716-645-3610,
hmd4@cornell.edu
Publicist Kara Lynn Dunn, 315-465-7578,
karalynn@gisco.net
Link:
http://www.seagrant.sunysb.edu/articles/r/2283