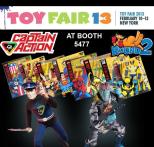 Largest Toy Trade Show Expects 31,000 Market-goers from Nearly 100 Countries
Toy Fair Generates More Than 17,000 Room Nights and Delivers $29.2 Million in Economic Impact to the City
New York City -
NYC & Company, the City's official marketing, tourism and partnership organization, welcomes back the 110
th
American International Toy Fair to New York City. One of the largest shows among its industry, Toy Fair showcases exhibits from over 1,000 manufacturers, distributors, importers and sales agents and features more than 150,000 innovative playthings. The show will host more than 31,000 professionals from nearly 100 countries,
including 23 of the Top 25 Toy Sellers in the U.S. Toy Fair is expected to generate 17,000 hotel room-nights and $29.2 million in economic impact for the City. The American International Toy Fair begins Sunday, February 10 and runs through Wednesday, February 13 at the Jacob K. Javits Convention Center and in showrooms around New York. "The American International Toy Fair is the premier showcase for new toys that will be on the top of everyone's list this holiday season," said George Fertitta, CEO of NYC & Company. "New York offers the diversity to bring together market-goers from all around the world as well as world-class hotels, restaurants and cultural institutions that will inspire creativity."  The American International Toy Fair is owned and operated by the Toy Industry Association (TIA). TIA is the not-for-profit trade association representing all businesses involved in creating and bringing toys and youth entertainment products to kids of all ages, representing more than 600 companies who account for approximately 85% of domestic toy sales.
"Toy Fair '13 is bigger and better than ever," said Marian Bossard, vice president of meetings and events at TIA
. "The excitement that the show generates among members of the global toy community is palpable. New York City becomes a must visit destination during Toy Fair for everyone in the industry to see what's new and hot in toys and youth entertainment." From classic toys to interactive entertainment and everything in between, the Toy Fair playground includes: action figures and dolls, games and puzzles, construction toys, arts and creative activities, earth-friendly products, bicycles, tricycles and ride-ons, radio-controlled vehicles, infant and preschool toys, cars, trucks, and trains, puppets and plush, computer software and video games, playground and sporting equipment, Halloween and Christmas themed products, books, stationery, party supplies, and much more. Offering more than just fun and games, attendees can participate in daily educational seminars, networking activities and after-hours events to take advantage of everything New York has to offer.
Consumer Product Safety Commission (CPSC) Chairman Inez Tenenbaum
will deliver Toy Fair's keynote address on Tuesday, February 12
th
at 10 a.m.. It is free and open to all Toy Fair attendees. Engage Digital's
Digital Kids Safety Summit
will be held on Monday, February 11
th
and will provide participants with a detailed understanding of safety and privacy issues for operators of kid-directed virtual worlds, social networks, online games, mobile apps and tablet services.
The Digital Kids Conference
will take place from Feb. 12-13 for brand owners, entertainment and media executives and marketers who will learn about engaging children online and on digital devices; and TIA's
Content Connection
will take place from Feb. 10-11, featuring a series of educational seminars led by experts in the field of licensing and covering such topics as: opportunities for traditional and e-enhanced toy manufacturers and designers; preschool market research and demographic trends; and media use and retail infrastructure in youth markets around the world. The American International Toy Fair takes place Sunday, February 10 through Wednesday, February 13, 2013 at New York City's Jacob K. Javits Convention Center. The Toy Fair is open to the trade only, not the general public. For more information, please go to ToyFairNY.com or follow the Toy Fair on Twitter @ToyFairNY. A full schedule of events can be found here:
calendarwiz.com/calendars/calendar.php?crd=toyfairny&&jsenabled=1&winH=839
.
About NYC & Company:
NYC & Company is the official marketing, tourism and partnership organization for the City of New York, dedicated to maximizing travel and tourism opportunities throughout the five boroughs, building economic prosperity and spreading the positive image of New York City worldwide. For more information, visit nycgo.com.
About the American International Toy Fair:
Toy Fair is an annual event that is owned and operated by the Toy Industry Association (TIA).
The largest toy trade show in the Western Hemisphere, the show brings together more than 1,000 exhibiting manufacturers, distributors, importers and sales agents to showcase an estimated 150,000 toy and entertainment products to 7,000+ unique retail outlets from 100 countries. For more information, visit ToyFairNY.com.
About the Javits Center:
The Jacob K. Javits Convention Center of New York opened in 1986 as the successor to the NY Coliseum. Javits is New York City's largest venue for conventions, trade shows and special events. Home to many of the top 200 trade shows, Javits hosts about 150 events with an average attendance of 3.5 million per year. These events contribute to the city and state economies by stimulating direct and indirect employment, economic activity and tax revenues, and by supporting the city's hotel, restaurant, tourism and entertainment industries. For more information, visit javitscenter.com. -30- Kimberly Spell/Chris Heywood NYC & Company 212 484 1270
mailto:cheywood@nycgo.com
Adrienne Appell Toy Industry Association 646 520 4863
aappell@toyassociation.org