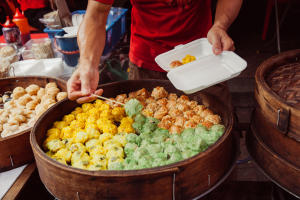 Igniting Manhattan's Summer Streets with Vibrant Flavors and Captivating Culture
New York, NY (June 5, 2023) - Taste the rich, vibrant flavors of China and immerse yourself in its captivating culture as New York City presents Dragon Fest (www.dragonfests.com), the first and largest outdoor Chinese food and culture festival. Slated to run on four different dates and locations, Dragon Fest is the perfect platform for gastronomic enthusiasts, art lovers, and the culturally curious.
"There is a surge in the interest and love for Chinese food and culture, and we noticed that it's hard to find a dedicated platform in New York City to celebrate this. That's why Dragon Fest was created. It's intended to be an experiential festival, where people can taste authentic Chinese cuisine and immerse themselves in the rich culture and traditions," says Biubiu Xu, Founder of Dragon Fest. "I'm thrilled to invite everyone to what will be the largest celebration of Chinese food and culture in NYC."
The rise of a new generation of Chinese restaurants in NYC over the past decade has made the city's food scene more diverse and exciting than ever. Yet, until now, there hasn't been a large-scale festival dedicated to Chinese food and culture. Dragon Fest fills this gap by offering a stunning array of food, art, and cultural traditions from China.
Dragon Fest aims to be an anchoring cultural experience in New York City. Its mission is to bring people and cultures together through food, music, and art. Dragon Fest provides a welcoming space for all to celebrate, share, and connect.
Dragon Fest also serves as a platform for individual vendors and brands. Through high-quality events, meaningful engagements, and impactful campaigns, Dragon Fest aims to generate buzz and raise brand awareness for all participating vendors and sponsors, fostering a strong and lasting sense of community.
The festival will take place on the following dates and locations: 
6/24/2023, 10 am-6 pm, Washington Square North (5th Ave - University Pl)
8/26/2023, 10 am-6 pm, Broadway (12th - 13th St)
8/27/2023, 10 am-6 pm, 4th Ave (12th - 13th St)
9/17/2023, 10 am-6 pm, 6th Ave (29th - 30th St)
Visitors can expect over 100 varieties of traditional, popular, and rare Chinese foods, including soup dumplings, dan dan noodles, sugar painting, candied hawthorn sticks, stinky tofu, and bowl pudding cake, among others. For those with an artistic eye, there will also be Han-style clothing and Miao embroidery and jewelry on display.
Participating vendors include renowned names such as MáLà Project, Kopitiam, Pecking House, Nom Wah, Lady Wong, and Nan Xiang. Sponsors include esteemed brands like HungryPanda, FOTILE, Nan Xiang, MìLà, Auden Education, and Fly By Jing.
Dragon Fest was conceived by Biubiu Xu, the visionary founder of The Egg House, the first egg-themed pop-up space offering a multi-sensory experience in the world. After making waves in New York, Los Angeles, Shanghai, and Hong Kong, Biubiu is eager to make a similar impact with Dragon Fest.
In the future, Dragon Fest plans to expand in frequency, location, and influence. Dragon Fest envisions taking place 12-18 times a year, in cities such as Boston, DC, and LA. The goal is to connect more Chinese in different industries and help more Chinese brands enter and grow in the American market. Dragon Fest aspires to become an iconic food festival in the US dedicated to Chinese food and culture.
Join the celebration and experience a delightful fusion of tastes and traditions at Dragon Fest.
For more information, visit the Dragon Fest website at www.dragonfests.com, get free tickets for the first event at Eventbrite, or follow Dragon Fest on Instagram @dragonfests.
Hi-res Images: link
Press contact:
Chloe Zhao
(347) 277-8913