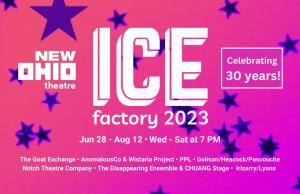 June 28 – August 12, Featuring Artistic Director Robert Lyons' Ultra Left Violence as The Final Show
Hybrid Model to Include Live In-Person Performances in NYC, As Well As Livestreams And On-Demand
New York, N.Y. – The Obie Award-winning New Ohio Theatre has announced that it will conclude its acclaimed 30-year run with the last ever Ice Factory Festival, featuring Artistic Director Robert Lyons' ULTRA LEFT VIOLENCE as the final show.
ULTRA LEFT VIOLENCE reunites playwright Robert Lyons with director/performer Daniel Irizarry, whose Fall 2022 hit My Onliness was called "a welcome gust of weird" (New York Times) and "the most insane show now playing in New York City" (TheaterMania). Their earlier collaboration Yovo has been performed in NYC, Poland, Cuba and South Korea; and has been translated into Spanish and American Sign Language. Both plays are included in My Onliness and Others, a collection of six plays by Lyons published in Fall 2022 by Mercer Street Books. Ultra Left Violence will be further developed in residencies at Mercury Store and NACL in Fall 2023.
The festival will once again be a hybrid model that includes live in-person performances, as well as livestreams and on-demand. Ice Factory 2023 features seven new works over seven weeks, June 28 – August 12, at New Ohio Theatre (154 Christopher St.) in New York City.
Live in-person performances are Wednesdays - Saturdays at 7pm. All Thursday night performances are livestreamed at 7pm ET and then available on-demand through the end of the festival. Tickets are $20 and $18 (students and seniors). Purchase livestream and on-demand tickets at https://watch.eventive.org/icefactory2023 and in-person tickets at https://newohiotheatre.org/.
Time Out New York calls Ice Factory "The summer theatre with the most downtown cred," and The New York Times says the festival's "an annual celebration of the weird, the wild and the unexpectedly wonderful." New York Magazine praises the Ice Factory as "New York's #1 Summer Theatre Festival," and The New Yorker says, "The Ice Factory Festival has a fine record for presenting intellectually challenging and artistically daring fare." "One of downtown theater's most beloved and reliable incubators of new voices," cheers the Observer.
New Ohio Theatre strengthens, nurtures, and promotes a community of independent theatre artists and companies by developing and presenting bold new work in New York City. Their Ice Factory summer festival offers emerging and established companies a prime platform to develop their work. Ice Factory prides itself on maintaining extraordinary aesthetic diversity along with an unequaled standard for intelligent, imaginative theater.
ICE FACTORY 2023 IN-PERSON & ON-DEMAND SCHEDULE
June 28 – July 1
DEADCLASS, OHIO
Devised by The Goat Exchange, original text by Eliya Smith, live music by Sasha Yakub, and directed by Mitchell Polonsky and Chloe Claudel.
A Jewish cemetery in Deadclass, Ohio, is the place (and time) for a séance. Five generations of Eliya's family are buried there, as are Mitchell's grandparents, Red and Stella, who met as children fleeing Nazi occupation and moved together to Deadclass to build a family. After the war, both had returned to Krakow to find all their relatives were dead – their hometown had become a cemetery. Inspired by Tadeusz Kantor's masterpiece, DEADCLASS, OHIO is a seance of the living and a love story of the dead.
The cast includes Paul Lazar, Marcus Amaglo, Chloe Claudel and Eliya Smith. Produced by Victoria Ungvarsky and Talia Escobedo.
The Goat Exchange is an interdisciplinary performance ensemble founded in 2016. They develop a wide range of projects, from site-specific happenings, irreverent reappropriations of canonical texts, mixed-media devised work, and new writing. Their work is experimental and collaborative, incorporating influences from opera, dance, literature, film, contemporary music, architecture, slapstick, vaudeville, mixed-media installation, pop-culture, and public art. More info at https://www.thegoatexchange.com/.
July 5 – 8
ZEBRA 2.0
Written by Saviana Stanescu and directed by Jeremy Goren, with contributions from data scientist Dr. Niki Athanasiadou. Co-produced by AnomalousCo, a predominantly queer/woman-led, feminist, transdisciplinary performance collective, and Wistaria Project.
Sci-fi rom-com ZEBRA 2.0 engages questions of artificial intelligence, humanity, immigration, belonging, simulation, and consciousness through the uncanny friendship of an undocumented woman in the USA and an AI who counts zebras.
Performed by Alina Mihailevschi and Tim Craig. Crew includes Aaron Ellis, Amy Liou, Erika Bracy, Diana Zhdanova, John Jannone, Jordan Friend, Kathryn Mederos Syssoyeva, Michi Zaya, Ras Badejo and Xinan Helen Ran.
In November 2021, Transforma Theatre presented one performance of ZEBRA 2.0, commissioned from playwright Saviana Stanescu with consultation from data scientist Dr. Niki Athanasiadou and directed by Jeremy Goren, at the inaugural Science In Theatre Festival in Manhattan. More info at https://wistariaproject.wordpress.com/zebra-2-0/.
July 12 – 15
ON THE CRANIAL NERVES OF BARBARIANS II: A CARP SANCTUARY
Created by PPL. Conceived and Co-directed by Esther Neff, Noah Ortega, 3dwardsharp, with Victoria Bray, Irina Virina, Thea Little, Jessica Bathurst, and Mia Destiny.
Programmed with medical texts and expressionist plays, an AI wades into a polluted pond roiling with invasive carp. Anyone who loves consciousness should be ready to perish for it.
The cast includes Jessica Bathurst, Victoria Bray, Mia Destiny, Thea Little, Esther Neff, Noah Ortega, 3dwardsharp and Irina Virina.
PPL is a thinktank, organizational entity, and flexible collective founded in 2006 by Esther Neff. Working across theatre, dance, visual arts, philosophy, and music contexts, PPL often uses social research and assembly to devise large-scale and multi-part operas-of-operations. They are dedicated to ethics before ontology and care before capital, orienting operations around and through forms of inquiry. More info at http://www.panoplylab.org/.
July 19 – 22
here i fall up
Written and composed by Beth Golison, and directed by Annabel Heacock and Maiya Pascouche. Music directed and orchestrated by Kyle Brenn.
here i fall up is a new ghost story/folk musical about a girl at odds with the ground beneath her feet, navigating her relationships with her sisters, her lover, and a ghost.
The cast includes Sophia Drapeau, Samantha Medina Chachra, Lauren Rose Quigley and Rose Tablizo.
Beth Golison writes multi-genre musicals that dig at the pit in our stomachs, unearth new truths, and interrogate harmful structures. Golison engages in storytelling as an act of healing and a transmission of warmth. Her work centers Queer people and people living with mental illness, and she always works to bring honesty, care, and gentleness into the room (for each other, for the material, and for each other's material). More info at https://bethgolison.com/about.
July 26 – 29
gerstl took the easy way out
Written by Lydia Blaisdell, directed by Ashley Olive Teague, and developed and produced with Notch Theatre Company.
Vienna, 1908, Mathilde's hubby & lover are threatening to hang themselves again (they can't live without her cu**). A comedy exploring/exploding Schönberg's wife's desire featuring ladders, tarps, a tiny piano, and a chorus.
The cast includes Amy Staats, Marcel Mascaro, Nikomeh Anderson, Anita Castillo-Halvorssen and Sergio Mauritz Ang. The production team includes Carin Jennie Estey (Associate Producer & Production Manager), Bruno-Pierre Houle (Scenic), Susanne Houstle (Costumes) and Jenny Kennedy (Stage Manager).
Notch Theatre Company creates community-responsive theatre to amplify local stories and support grassroots social activism efforts on a national scale. More info at https://notchtheatre.weebly.com/.
August 2 – 5
HOW I DISAPPEARED
Directed by Tianding He. Produced by CHUANG Stage.
HOW I DISAPPEARED is a multimedia devised object performance project that explores the poetic and personal urban life experiences of six female Asian immigrant artists in NYC. With original live music, AR puppetry and interactive installations.
Devisers/playwrights/performers/puppeteers include Tianding He, Jiaoyang Li, Yuexing Sun and Qingan Zhang. The production team includes John Tsung (Music Director, Musician & Sound Designer), Jiaying Zhang (Scenic Design), Brian Ellis (Creative Coder), Alison Yueming Qu (Executive Producer) and Yining Cao (Associate Producer).
Founded in 2018, CHUANG Stage is the first Mandarin-English bilingual, bicultural theater company nationwide. CHUANG Stage envisions a future in the American theatre moved forward by theater artists and audiences of Asian descent, through producing new works that contribute to language and spatial justice, equity and accessibility, global perspectives, anti-racist practices, immigrant visibility, and care for the community. More info at https://www.chuangstage.org/.
August 9 – 12
ULTRA LEFT VIOLENCE
Text by Robert Lyons and directed by Daniel Irizarry.
An anti-capitalist dialogue / lecture / manifesto run amuck. With live music.
A work-in-progress, the cast features Daniel Irizarry, Rhys Tivey and Folami Williams. The production team includes Deb O (Set), Meghan E. Healey (Costumes) and Emily Hart (Stage Manager).
New Ohio Theatre is a two-time Obie Award-winning theatre under the leadership of Robert Lyons (Artistic Director) and Jaclyn Biskup (Creative Producer). The New Ohio serves New York's most adventurous theatre audiences by developing and presenting bold work from today's vast independent theatre community. They believe that the best of this community, the small artist-driven ensembles and the daring producing companies that operate without a permanent theatrical home, are actively expanding what theatre is, how it's made, and who makes it. From their home in the West Village's historic Archive Building, the New Ohio provides a high-profile platform for downtown's most mature, ridiculous, engaged, irreverent, gut-wrenching, frivolous, sophisticated, foolish and profound theatrical endeavors.
As previously announced, New Ohio Theatre will conclude operations after 30 years as an indispensable pillar of the downtown independent theatre community at the end of the current season on August 31, 2023. For info visit https://newohiotheatre.org/, Like them on Facebook at https://www.facebook.com/newohiotheatre/, and follow on Twitter  (https://twitter.com/NewOhioTheatre) and Instagram (https://www.instagram.com/newohiotheatre/) at @NewOhioTheatre.
###
Press contact: David Gibbs/DARR Publicity
646-744-7200 or david@darrpublicity.com