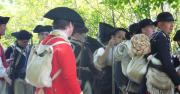 Ticonderoga, N.Y.
- Join Fort Ticonderoga on June 23 from 9:30 am until 5 pm for its newest living history event "Controversy, Conspiracy, & Colonial Congresses" which brings to life the confusion of an emerging nation and the political in-fighting taking place amongst its leaders. Political fire-storms and turbulent developing political systems make daily headlines today, but the present-day issues that challenge nations are no different than what occurred at Fort Ticonderoga in June of 1775.  The living history event is included in the general admissions.  For more details visit
http://www.fortticonderoga.org/
 or call 518-585-2821.  Throughout the day visitors will have the rare opportunity to glimpse into a complex and dramatic moment in Fort Ticonderoga's history.  Listen to Colonel Benedict Arnold as he describes the supply and tactical situation on Lake Champlain.  Learn about British military activity on the lake and the complexity of Native American alliances in the fight for American liberty.  Be immersed in the story as soldiers from Colonel Hinman's Fourth Connecticut Regiment muster on the Fort's parade ground and watch as Colonel Benedict Arnold reviews his own Massachusetts soldiers as they practice their military exercises firing musket volleys by platoons. Inside the Fort's Officer's Barracks, take part in backroom negotiations between the various officers and the Massachusetts committee of three. Discuss with Colonel Benedict Arnold his frustrations with the situation and see him resign his commission as a result of his frustration with the negotiations. Witness as the sordid details surrounding Arnold's resignation are brought to life at Fort Ticonderoga. For a full schedule of "Controversy, Conspiracy, & Colonial Congresses" visit
http://www.fortticonderoga.org/learn/re-enactors/cccc/visitor
. As a Continental Army was forming in the defense of America's newly united colonies, so too was the political system that was needed to run a nation. After the capture of Fort Ticonderoga, Colonel Benedict Arnold found himself at the center of a political fire-storm. Fort Ticonderoga needed to be maintained, but the proper method of control was still uncertain. As Arnold sought instructions from the separate colonial assemblies, these governments chose political deference to the Continental Congress. In the maelstrom of reports coming from Ticonderoga, a clear chain of command was desperately needed. With continual back biting amongst the officers operating along Lake Champlain, Congress appointed new leaders. A Connecticut officer being sent to supersede Arnold, and a lack of trust in his superiors, caused Arnold to resign his commission on June 24, 1775.
FORT TICONDEROGA
America's Fort
Located on Lake Champlain in the beautiful 6 million acre Adirondack Park, Fort Ticonderoga is a private not-for-profit historic site and museum that ensures that present and future generations learn from the struggles, sacrifices, and victories that shaped the nations of North America and changed world history. Serving the public since 1909, Fort Ticonderoga engages more than 70,000 visitors annually and is dedicated to the preservation and interpretation of Fort Ticonderoga's history.  Accredited by the American Association of Museums, Fort Ticonderoga offers programs, historic interpretation, tours, demonstrations, and exhibits throughout the year and is open for daily visitation May 18 through October 18. The 2012 season features the Fort's newest exhibit
Bullets & Blades: The Weapons of America's Colonial Wars and Revolution
which highlights over 150 of the museum's most important weapons and is a comprehensive and expanded reinterpretation of its world renowned historic arms collection!  Visit
http://www.fort-ticonderoga.org/
 for a full list of ongoing programs or call 518-585-2821. Funding for the 2012 season is provided in part by Amtrak.  Visit
http://www.fortticonderoga.org/visit/directions
 for a special 2 for 1 Amtrak offer! Fort Ticonderoga is located at 100 Fort Ti Road, Ticonderoga, New York.
Photo:  Visit Fort Ticonderoga for its newest living history event "Controversy, Conspiracy, and Colonial Congresses" on June 23rd.  Picture here, Fort Ticonderoga historic interpreters and volunteers portray soldiers at the Fort in 1775.  Photo courtesy of  George Efinger.
### 
Contact:
Beth Hill 518-585- 2821
bhill@fort-ticonderoga.org