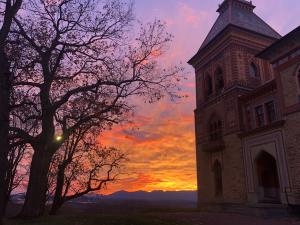 Hudson NY — Olana is celebrating the Winter Solstice this weekend with several seasonal onsite and virtual events developed by The Olana Partnership. Join us on Saturday, December 19 for activities to enjoy in the park or from the comfort of home.
"This weekend, we are offering a range of activities to celebrate the start of winter," says Carolyn Keogh, The Olana Partnership's Director of Education and Public Programs. "It's exciting to provide virtual opportunities for engagement with Olana's magnificent winter views as well as onsite programs for exploration and discovery!"
Listen to a magical winter-inspired "Winter Solstice Sunset Mix" created especially for this Winter Solstice by DJ and internationally acclaimed music director, Javier Peral. Stream the mix at www.olana.org/music. Watch Olana's spectacular winter skies from wherever you are in the world by tuning into the OLANA EYE Skycam (olana.org/olanaeye).
Families and friends are invited to bundle up and explore the landscape with our special winter afternoon walking tours. A Winter Tree Walk (1 – 2 PM, 2:30 – 3:30 PM), led by John P. O'Grady, a writer, researcher, and educator with a background in environmental studies, offers an engaging 60-minute stroll through Olana's artist-designed landscape to examine what happens in the woods during this season.
Learn to see the winter sky in a brand-new way with The Cloud Appreciation Walk (3 – 4 PM), led by a representative of the Cloud Appreciation Society. This guided tour of the clouds encourages participants to take inspiration from artist Frederic Church's studies of the expansive skies at Olana. Visitors will observe the sky from different picturesque viewpoints while they capture and share their own photos of cloud sightings. Winter Activity Guides, co-produced with the Columbia Land Conservancy, will be available for visitors to use as they explore Olana's 250-acre winter landscape on their own.
Outdoor Olana tours of the historic landscape designed by Frederic Church are available Saturday and Sunday from 11am-3:30pm. The Art and Environment Tour provides a comprehensive introduction to Church's work as an artist and landscape designer expressed through his master work, Olana. The Landscape and Architecture Tour focuses on the integration of landscape and architecture in the siting and design of Olana's Main House.
The Olana Museum Store is open Saturday and Sunday from 10am-4pm and provides unique, custom and Taste New York holiday gifts. This weekend (12/19 - 12/20), Members of The Olana Partnership receive a double dis-count of 30% on purchases. Or, shop online at shop.olana.org. For more information about programs, weather-related changes or to purchase tickets, please visit, OLANA.org.
Olana's landscape is free and open to all every day from 8 AM to sunset. Please dress in seasonally appropriate footwear and attire. Check the website for any updates. Stop the spread. Wear a mask and keep 6 feet apart. Dogs are welcome and must be leashed at all times. Olana is a Carry In-Carry Out park. Please do your part to keep Olana beautiful!
###
About Olana and The Olana Partnership: Olana is the greatest masterpiece of Frederic Edwin Church (1826-1900), a preeminent American artist of the mid-19th century and the most important artist's home, studio, and de-signed landscape in the United States. Church designed Olana as a holistic environment integrating his advanced ideas about art, architecture, landscape design, and environmental conservation. Olana's 250-acre artist-designed landscape with five miles of carriage roads and a Persian-inspired house at its summit embraces unrivaled pano-ramic views of the Hudson Valley and Catskill Mountains and welcomes more than 170,000 visitors annually. The landscape is open for guided touring, and reservations are highly recommended. The landscape is open daily 8 AM-sunset.
Olana State Historic Site, administered by the New York State Office of Parks, Recreation and Historic Preservation, is a designated National Historic Landmark and one of the most visited sites in the state. The Olana Partnership, a private not-for-profit education corporation, works cooperatively with New York State to support the restoration, conservation, and interpretation of Olana. The Olana Partnership operates Olana State Historic Site in a coopera-tive agreement with New York State Parks.