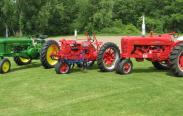 Seneca Falls, N.Y.
 - Passion and pride will be on display at 2 p.m. daily, Aug. 7-9, at the 2012 Empire Farm Days. That's when the "Old Iron" Parade takes place through the 300-acre show grounds at the Rodman Lott and Son Farms in Seneca Falls. Howard Hemminger of Geneva, NY, will have three classic tractors in the parade at New York's largest outdoor agricultural trade show.   "Empire Farm Days is great fun, driving the old tractors amidst all the new equipment," Hemminger says. "Show visitors like to hear that five generations of my family have driven our machines. I drive my grandfather's 1938 14-horsepower Farmall F-14, my wife Carol drives her John Deere 50, and we always find someone for the Farmall 400 that my dad bought in 1955."   Hemminger, president of the International Harvester Club in Bellona, NY, will be recruiting new members for the club.   "Agriculture runs deep in my veins and I enjoy talking with people and hearing the amazing stories of the old tractors in their lives. We are encouraging younger men and women, and farmers still working the farm with their old tractors, to join us in putting the 'old iron' on display and in parades," Hemminger says.   At least five antique tractor clubs are expected to bring their highly-prized classic and antique tractors from Allis-Chalmers to Minneapolis-Moline models to the 2012 Empire Farm Days.   The three-day Empire Farm Days agricultural extravaganza also provides the opportunity to learn about the newest "farm steel" equipped with GPS technology and to test drive large and compact tractors and ATVs daily 10am-2pm on the northeast side of the showgrounds. The International Harvester "Old Iron" club will have raffle tickets for a Cub Cadet tractor to be awarded in November.   The 300-acre Empire Farm Days agricultural extravaganza includes DairyProfit and Equine seminars; live animals; the NY Ag Leadership Luncheon; cattle handling, farm safety, goat care, and agricultural plastics recycling demonstrations; farm family displays and activities; 600-plus representatives of ag institutions and organizations; and beef, chicken, & pork BBQ. Visit the event's website at
www.empirefarmdays.com
.
###
MEDIA CONTACT
:  Empire Farm Days Manager Melanie Wickham, 877-697-7837,
mwickham@empirefarmdays.com
PHOTO
: Howard Hemminger's three antique tractors; credit: Howard Hemminger, Bellona, NY.