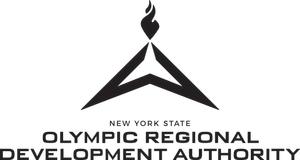 Analysis by Tourism Economics Shows that Olympic Authority Facilities Generated $25 Million in State and Local Tax Revenue in FY 2022-2023
New York State's Investment in the Olympic Authority Supports $16 Billion NYS Winter Tourism Industry
Lake Placid, N.Y. (June 16, 2023) – Tourism Economics, a research firm focused on economic impact, forecasting, and market analysis of tourism-based destinations worldwide, has released its "Economic Impact Analysis for the New York State Olympic Regional Development Authority" for the 2022-2023 fiscal year. The analysis found that the Olympic Regional Development Authority's (Olympic Authority) local operational spending and revenues as well as the State's investment yielded a direct economic impact of $341.8 million. In addition, the Olympic Authority operations supported 3,414 jobs and generated $25 million in state and local tax revenues.
"These achievements are a direct result of the hard work of our staff who were able to keep the venues up and running through heavy construction projects and a global pandemic," Olympic Authority President and CEO Mike Pratt said. "We are proud to say that despite these external obstacles, the Olympic Authority never missed an operating season and even surpassed our previous visitation records for the year with more than 1 million. We are in demand like never before, and we connect this success to our staff performing at such a high level."
The analysis focused on the operations of the Olympic Authority facilities, including the ski mountains at Belleayre, Gore, and Whiteface, as well as Mt Van Hoevenberg, the Olympic Center, the Olympic Jumping Complex, and the Olympic & Paralympic Training Center. The research firm concluded that the Olympic Authority generated $66.9 million in economic impact by spending money in the local economy to sustain the operations of its various facilities. Additionally, visitors to these facilities contributed $133.8 million to the local economy by spending money at both on-site and off-site establishments such as restaurants, hotels, retailers, and other recreation/entertainment venues. This direct economic impact also resulted in an additional $63.6 million in indirect expenditures and $77.5 million in induced expenditures.
"The economic impact model incorporates data and insights from numerous third-party studies and surveys, in addition to data on the origin and number of visitors at Olympic Authority facilities," stated Greg Pepitone, of Tourism Economics. "The 881,000 visitors on page 12 of the report presents the incremental visitor volume, which differs from the total visitor volume because it removes residents and travelers whose primary purpose to visit the area was not motivated by the presence of an Olympic Authority facility."
Tourism Economics employed a comprehensive model to quantify the impacts resulting from both the Olympic Authority's operations and visitors' spending. The following are the key findings from their analysis:
The $341.8 million includes $63.6 million in indirect expenditures, $77.5 million in induced expenditures, and $200.7 million in Olympic Authority operations and visitor spending.
The 3,414 jobs provided $128.8 million in wages and benefits to the economy.
The Olympic Authority facilities generated $25.0 million in state and local tax revenues.
The $105 million capital spend led to $187.1M one-time economic impact, 1,182 jobs, and $10.4M in state and local tax revenue. 
The Olympic Authority welcomed a record 1.1 million visitors, over 80% of whom came with the primary purpose of visiting an Olympic Authority facility, creating substantial economic benefits for local businesses while adding to the tax base. These visitors were attracted by a full slate of local, international, and national events and day-to-day offerings, such as ski passes at the three alpine resorts and the Nordic centers at Mt Van Hoevenberg and Gore Mountain.
Visitors spent $133.8 million, of which Essex County accounted for the largest share of Olympic Authority visitor spending generating $77.2 million, Belleayre Mountain in Ulster County generated $25.3 million, and Gore Mountain in Warren County generated $31.3 million in direct spending in FY 2022-2023. 
Eighty-four percent of visits to Olympic Authority venues occurred during the winter months, with each winter visitor spending an average of $156 per day. These 720,000 winter travelers who came to the region generated $112.1 million in direct spending, while summer travelers accounted for $12.9 million in direct spending. An additional $8.8 million in direct spending was generated by competitors and spectators who attended events at Olympic Authority venues throughout the year.
These visitors represent a major pillar of the local tourist economy, spending $39 million on local attractions and entertainment, $33 million on lodging, $27 million on food and beverage, and $20 million on retail.
"An important part of our mission is to create economic and social benefit in the Adirondacks and the Catskills," Pratt said. "It is fantastic to see the financial gains of our efforts spreading out into the local communities that we call home."
The Olympic Authority employed 1,468 full-time, part-time, and seasonal employees last year, spending $30.3 million of its total $66.9 million operational budget on salaries and wages. The remaining operational funds were allocated to contract services, supplies, materials, utilities and event expenses.
In the past six years, the Olympic Authority has undertaken significant rejuvenation and modernization efforts for each venue, elevating them to world-class competition standards while enhancing the overall experience for recreational athletes and casual tourists. With year-round attractions, meeting spaces at each venue, and a full-service convention center in downtown Lake Placid, the Olympic Authority has expanded its appeal to a wide range of visitors.
Last winter, New York welcomed 68.5 million visitors, generating more than $16.1 billion in direct visitor spending. ORDA's economic impact for New York State was last measured at $273.6 million for 2019-2020, a 75 percent increase over the previous 2016-2017 measurement of $156 million.
The full "Economic Impact Analysis for the New York State Olympic Regional Development Authority" report can be found on the Olympic Authority's Corporate Reports page under Economic Impact Reports at https://orda.org/media/corporate-reports/.
###
ABOUT THE OLYMPIC AUTHORITY 
Established in 1982, the New York State Olympic Regional Development Authority (Olympic Authority) was created by the State of New York to manage the facilities used during the 1980 Olympic Winter Games at Lake Placid. The Olympic Authority operates Whiteface, Belleayre, and Gore Mountains, Mt Van Hoevenberg, the James C. Sheffield Speed Skating Oval, the Olympic Jumping Complex, and the Olympic Center. As host to international, national, regional and local events, the Olympic Authority's venues are destinations and economic catalysts of the regions it serves.
ABOUT TOURISM ECONOMICS 
Tourism Economics is an Oxford Economics company with a singular objective: combine an understanding of tourism dynamics with rigorous economics in order to answer the most important questions facing destinations, developers, and strategic planners. By combining quantitative methods with industry knowledge, Tourism Economics designs custom market strategies, destination recovery plans, tourism forecasting models, tourism policy analysis and economic impact studies. More than 500 companies, associations, and destinations work with Tourism Economics every year to conduct and analyze research findings to assist with better marketing, investment, and policy decisions.
Contact:
Darcy Norfolk, Communications Director
dnorfolk@orda.org   
518-637-3656