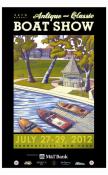 Event Features Boat Parade, Concerts, Photo Cruise
Skaneateles, N.Y.
- Two stars of the silver screen-vintage boats from "On Golden Pond," newly restored over the past year-will make an appearance at the Skaneateles Antique and Classic Boat Show, held in Clift Park July 27-29.  
Thayer IV
, a 22-foot Chris-Craft Sportsman Utility used by the characters to go fishing and into town, and
Mariah
, a black 19-foot Century Raven that portrayed the U.S. Mail boat, will be among the 80+ preserved and restored wooden boats on display. In a tent adjacent to the gazebo, "On Golden Pond" will play and memorabilia from the movie will be exhibited, along with documentation on the boats' restoration.   The boats were bought last year by Seth and Renee Katz, of Hopatcong, N.J., after having been out of commission for more than 20 years. They were painstakingly restored at Katz's Marina, in Andover, N.J., and have appeared in just one other show this year, in central Florida. "At the Mount Dora show, people went nuts over them," says Bruce Marsden, of Waldwick, N.J., who will be towing one of the boats to Skaneateles.   Also making an appearance will be Norman and Ethel Thayer, as portrayed by Henry Fonda and Katharine Hepburn (aka Ric and Wendy Fetridge, of Fayette, N.Y.)   The Antique and Classic Boat Show, which attracts more than 10,000 visitors each year, is organized by the Finger Lakes Chapter of the Antique and Classic Boat Society and the Skaneateles Area Chamber of Commerce Foundation (also known as the Skaneateles Foundation), and presented by M&T Bank. Hours are 3 p.m. to dusk Friday, 9 a.m. to dusk Saturday and 8 a.m. to 3 p.m. Sunday. Admission is free. This is the Finger Lakes Chapter's 34th annual show, and the 18th year it has been held in Skaneateles. Judging of the boats, in 35 categories, takes place Saturday morning. Throughout the weekend, visitors to the show will cast their votes for the highly coveted People's Choice Award, sponsored by Doug's Fish Fry, which will be presented at 3 p.m. Sunday. Additional highlights include:
Performances by the Skaneateles Community Band, 7:30 to 8:30 p.m. Friday; the Salt City Barbershop Quartet, 11 a.m. to 1 p.m. Saturday; Frankie Michaels, noon to 3 p.m. Saturday; and the Soda Ash Six, noon to 3 p.m. Sunday.
A display of antique model boats by the Syracuse Model Boat Club, 10 a.m. to 3 p.m. Saturday and Sunday.
A junior judging competition, sponsored by Hagerty Classic Marine Insurance, 10 a.m. Saturday.
Opportunities for children to paint their own wooden boats, Saturday morning.
Guided tours by the Skaneateles Historical Society, starting at 11 a.m. and 12:30 p.m. Saturday and Sunday. $10 per person, with proceeds benefiting the Historical Society.
A boat parade and fly-by, starting at 3 p.m. Saturday.
A photo-shoot and spectator cruise aboard the Judge Ben Wiles, 10 a.m. Sunday. The Judge will leave from the Mid-Lakes Navigation dock in Clift Park and make a slow tour of the north end of Skaneateles Lake, while exhibiting boats make random passes and provide opportunities for action shots. Tickets are $10 for adults, $5 for children under 13 accompanied by an adult. Coffee and pastries will be available; no reservations are necessary.
Raffle drawings. First prize is a $500 Mirbeau gift certificate, second and third prizes are $250 Mirbeau gift certificates, fourth prize is a dinner cruise for two aboard the Judge Ben Wiles, fifth prize is two tickets to a show at Merry-Go-Round Playhouse, and sixth prize is a framed boat show poster. Tickets are $5 each; three for $10; 10 for $20. Winners will be announced at the conclusion of the show, at 3 p.m. Sunday. Ticket-holders need not be present to win.
This year's poster was developed from a painting by Marcellus resident Jason Cooper King, who paints in acrylics on canvas. King, motivated by the appreciation for a simpler time, enjoys working from old photographs that depict classic Americana. Posters are $10 and are on sale at the Skaneateles Area Chamber of Commerce, 22 Jordan St., and at the show.   Visitors can place bids on the original painting, as well as on a toy boat filled with $100 worth of lottery tickets, at a silent auction Friday and Saturday. The items will be sold at a live auction Saturday evening.   One antique boat is already on display-a 1954 Penn Yan Cartop, which can be seen at M&T Bank in the village. The Antique and Classic Boat Show is officially sponsored by M&T Bank. Contributing sponsors are Katz's Marina, Summit Auto, the Sherwood Inn, Mirbeau Inn and Spa, Delmonico Insurance Agency, Doug's Fish Fry, Hagerty Classic Marine Insurance, The Sailboat Shop, Adams & Son Insurance, Bluewater Grill & Sweetwater Café, cate&sally, John's Body Shop Auto and Marine, Johnny Angel's Heavenly Burgers, the Mandana Inn, Menter, Rudin & Trivelpiece P.C., Mid-Lakes Navigation, Realty USA, the Slottje Family and Wirth's Automotive Services. Media sponsors are Group M Communications, Scotsman Press, the Skaneateles Journal and WRVO-FM.   For more information, go to
http://www.skaneateles.com/
or call the Skaneateles Area Chamber of Commerce at (315) 685-0552.  
###
Contact
: Susan Dove Skaneateles Area Chamber of Commerce Foundation 315-685-0552
sdove@skaneateles.com
http://www.skaneateles.com/