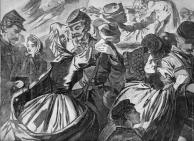 Cooperstown, N.Y. -
Commemorating the 150th anniversary of the Civil War, the Fenimore Art Museum in Cooperstown, New York, presents
On the Home Front: New York in the Civil War,
opening September 8 and running through December 31. Even though no battles were fought in the area, the Civil War was reflected in all aspects of everyday life in upstate New York. Military and patriotic themes appeared in children's toys, home decorations, and even women's clothing.
On the Home Front
offers a multitude of rare artifacts, artwork, photographs, and clothing from the museum's collection, which detail these elements, including items from upstate New York regiments. Documenting this traumatic period in our nation's history is also the focus of the museum's second annual Americana Symposium:
Civil War Era Material Culture.
  Presentations from leading scholars and experts on American history, art, and culture include "Seeing the Civil War: Artists, Photographers, Cartoonists, and Pictorial News and Views," "Photographic Techniques during the American Civil War," and "Emblems of Devotion: New York State's Civil War Battle Flags, 1861-1862."  For information on the symposium, visit FenimoreArtMuseum.org or call (607) 547-1453.  For more information about the
On the Home Front
exhibition, visit
FenimoreArtMuseum.org
.
###
Image Credit:
Home from the War
.  Harpers Weekly Newspaper Print.  June 13, 1863. Collection of Dr. Jay G. Williams.
About Fenimore Art Museum
The Fenimore Art Museum, located on the shores of Otsego Lake -- James Fenimore Cooper's "Glimmerglass Lake" -- in historic Cooperstown, New York, features a wide-ranging collection of American art including: folk art; important American 18th- and 19th-century landscape, genre, and portrait paintings; an extensive collection of domestic artifacts; more than 125,000 historical photographs representing the technical developments made in photography and providing extensive visual documentation of the region's unique history; and the renowned Eugene and Clare Thaw Collection of American Indian Art comprising more than 800 art objects representative of a broad geographic range of North American Indian cultures, from the Northwest Coast, Eastern Woodlands, Plains, Southwest, Great Lakes, and Prairie regions. Founded in 1945, the Fenimore Art Museum is NYSHA's showcase museum. FenimoreArtMuseum.org
For more information or images, please contact:
Todd Kenyon, Public Relations Fenimore Art Museum/The Farmers' Museum