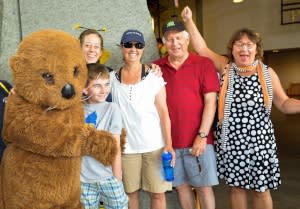 Tupper Lake, N.Y. –  Less than five years after The Wild Center welcomed its first 500,000 visitors, today just after 12:30pm it celebrated eight-year old Andrew Chrien of South Carolina as the one-millionth person to walk through the Center's doors.
 
Andrew, accompanied by his siblings Tyler, 6, Laura 4, and Mattie, 2, as well as his mother, Colleen Chrien, and grandparents, Charlie and Laurie Wall, was visiting The Wild Center for the first time. "I was not expecting it," said Andrew. "I was just expecting to come here and learn about animals". His grandparents, who they are visiting, are part-time, year-round Adirondack residents.
 
Upon finding out they were the millionth visitor, Andrew experienced a flash mob by staff of the Waggle Dance, a figure-eight dance usually done by honey bees, and received a celebratory gift basket, including a two-year family membership which equates to just over 1,000,000 minutes of Wild Center experiences. Andrew and everyone else visiting also received honey sticks and seed packets in honor of our Summer of Pollinators and partnership with the Adirondack Pollinator Project. The celebration wrapped up with cake for all.
 
"It took us a little over six years to welcome our 500,000th visitor in 2012," said Stephanie Ratcliffe, Executive Director of The Wild Center. "Now we've reached this next huge milestone in under five years - it's just astounding. Our commitment to this community is unwavering and the support we receive in return from locals and visitors can't be recognized enough. It's a symbiotic relationship that leads to more opportunity for everyone. We exist to serve the public and it's sometimes overwhelming to think of how we have impacted people. From the family enjoying their day together to inspiring young people to consider a career supporting science-based decision making and honoring the natural world - each impression we leave is significant."
 
Bringing a million visitors to the region has a serious economic impact.  To understand that regional economic impact, in January 2017 The Wild Center conducted a study with the assistance of The Development Corporation in Plattsburgh.  The study confirmed that the Center is a major catalyst and economic engine for the North Country. Visitors to The Wild Center and Center operations generated $27 million in total regional revenue and directly supported an additional 386 jobs in the region during 2016 alone.
 
"The Wild Center has been an amazing success story," said Garry Douglas, President of the North Country Chamber. "It has quickly become a major anchor in the heart of the Adirondacks. More than that, however, it has possessed an entrepreneurial spirit from the very beginning. From the revitalization of Tupper Lake to helping foster a sustainable economy in the Adirondacks, The Wild Center has become a key player and partner."
 
For more information, please contact The Wild Center at 518 359-7800 or visit us online at www.wildcenter.org.
Photo caption: Ollie the Otter celebrates the millionth visitor Andrew Chrien, with Leah Valerio - Curator, Colleen Chrien, Charlie Wall and Stephanie Ratcliffe - Executive Director.
# # # 
 
Contact: Tracey A. Legat, tlegat@wildcenter.org