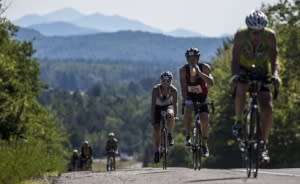 Tupper Lake, N.Y. - It began in 1983 with 68 competitors, back when bikes her heavier, wetsuits were a rarity, and race buoys were repurposed milk jugs.
On Saturday, June 24, the Tinman will celebrate its 35th anniversary. The most noticeable change since the first race is the number of competitors. The Tinman is attracting more competitors to the start line who are looking for a hardcore race with a small town feel in a beautiful setting. To date, the number of those registered is up 30 percent over last year's 500 entrants, compared with 390 entrants in 2015, and 375 in 2014. 
"The race has a rich history and a beautiful location, and we pride ourselves on being a great choice for varying ability levels, from the first-time athlete to the seasoned veteran," said race director Wendy Peroza. 
The Tupper Lake Tinman Triathlon is one of the most popular and scenic races in northern New York and is sanctioned by USA Triathlon, the national governing body for the sports of triathlon, duathlon, winter triathlon and aquathlon in the U.S. The Tinman offers five types of races: Tinman (1.2 mile swim, 56 mile bike, 13.1 mile run); Aquabike (1.2 mile swim, 56 mile bike); Team Relay (1.2 mile swim, 56 mile bike, 13.1 mile run); Olympic (.94 mile swim, 24 mile bike, 6.2 mile run); and a Sprint (0.6-mile swim, 12.4-mile bike, 3.1-mile run).
Organizers have made changes and improvements to the event over the years and this year is no exception. They employed the talent of Tupper Lake native Ben Callaghan to create a new website and logo to commemorate the 35th year. 
"We were looking for a clean and modern brand to go forward with," said race director Wendy Peroza. "The timing was perfect for an updated design since we had ended our contract with the Toughman race series," she said.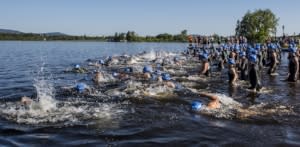 The 2017 logo design, pictured above, will be used in print and digital media, as well as all signage.
The race is sponsored by the Tupper Lake Chamber of Commerce, with the help of a huge corp of volunteers. The first of the races begins at 8:00 a.m., and in addition to the competitions, the day offers an energetic, fun scene for spectators as well, with live music from noon to 4:00 p.m. at the pavilion, a beer tent and food throughout the day.  
For more information about the race, visit tupperlaketinman.com and follow the event on Facebook, Twitter, and Instagram. 
###
Contact: Kim Rielly, director of communications
Regional Office of Sustainable Tourism
518.637.6559 | @krielly