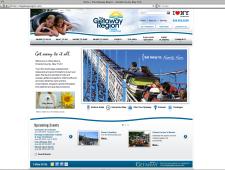 Utica, N.Y. - Visitors and tourists spend approximately $951 million in Oneida County each year. Now Oneida County Tourism has yet another channel for more visitors to make plans to come to Oneida County and spend dollars boosting the local economy via a new, stateof-the-art, feature rich website.
As the next step in the launch of the new branding effort "The Getaway Region", and the marketing campaign, "Getaway To It All!", http://www.oneidacountytourism.com/, and www.thegetawayregion.com, feature all of Oneida's County's rich History, Attractions, Events, Entertainment, Lodging, Shopping and more.
More and more people are choosing a getaway that's closer to home and the new website will make everything from exploring options to making reservations quick, easy, and a lot more fun! Even places throughout the Central New York Region are promoted as many visitors stay and dine in Oneida County when visiting nearby attractions, causing a boost to the local economy.
 The new site, custom developed by Trainor Associates of New Hartford (www.trainor.com), targets regional, national, and international visitors and tourists who have an interest in what Oneida County offers. It also provides a focus for OCT's primary target audiences including Families with Children, (Baby) Boomer Couples, Golfers, and Snowmobilers.
The new site is not only designed to attract and engage new visitors, a major component of OCT's new marketing strategy, but also expand the knowledge and opportunities of regular visitors and tourists already coming here.
"Our new site puts visitor's priorities up front," states OCT President Kelly Blazosky. "Our county has a lot to offer and what people want to know like 'Where to stay, What to do, Where to dine'. It's all right there... at their fingertips. We also encourage area residents to go online and take a tour, we are sure there are many things about Oneida County that many people who have lived here their whole life don't even know about!"
Potential visitors or tourists who may not already be aware of the area will be able do a search on hundreds of relevant search terms, keywords, and phrases and find the Oneida County Tourism website. This will create immediate site traffic and encourage users to further pursue visiting Oneida County.
As an example, a person (who isn't already coming to the website directly) will search a term, find links to Oneida County and visit the site. From there they will be able to 1) Review what Oneida County has to offer, 2) Make Lodging and Dining Reservations, 3) Access an Interactive Map of the county, 3) then Build an Itinerary for their stay including Events, Attractions, Recreation, etc.
FEATURES:
Usability and Functionality
Clean, crisp, and user friendly, the focus of the site is relevant content. The user experience is enhanced by photography. Convenience is built in with dropdown menus that allow users to get to desired areas in three clicks or less. Website highlights include:
The Home Page showcases the new county branding, and features a Flash show of the area, a video tour, upcoming events and featured news and locations.
These tools provide detailed information on a location. Convenient buttons allow you to add the location to your itinerary, map it, and/or make a reservation. Advanced search options will help you find places to explore just by checking category boxes to get results on the fly. You can also share location details with your favorite Social Media tools.
o My Itinerary
o Request A Free Travel Guide by Mail, Download or View an Interactive Version online.
o Interactive Map
o Weather
o Podcasts: Listen to the weekly Central New York Travel Show Podcast
o Packages & Specials
o Suggested Itineraries
The My Itinerary feature allows the user to add to or remove from a personalized itinerary the locations they would like to visit. The user can then map out or print their Itinerary.
A customized Google map allows users to view locations by toggling on and off multiple categories. These categories include: Attractions, Entertainment, Where To Dine, Recreation, Where To Shop, Golf Courses, Bed & Breakfast and Inns, Cabins and Cottages, Camping, Motels and Hotels, and Vacation Rentals.
From the map, users can add and remove locations in their personalized Itinerary as well as view their full itinerary on the map. Users can click icons on the map to get an information box that can include a thumbnail photo, address, phone number, website, link for more information, and a link for directions.
Users can view upcoming events, filter events by date and category, add events to personal calendar, subscribe to calendar to be informed of events in real time, get detailed information on event locations, and share event details with your favorite Social Media tools.
Anyone interested can follow what is happening in Oneida County using a variety of Social Media including but not limited to Facebook, Flickr, and LinkedIn.
Technology
The new site is built on a state of the art digital platform that easily accommodates future expansion and improvements. This platform also provides a secure, cutting-edge Content Management System, which allows content editors and administrators to update, add new content, or maintain existing content quickly and easily via industry standard WYSIWYG ("What You See is What You Get") editors.
It is also built for ease of use by the Oneida County Tourism staff that will manage the content keeping information relevant and refreshed.
# # #
Oneida County Tourism
The Oneida County Convention & Visitors Bureau, dba Oneida County Tourism, is Oneida County's official tourism marketing organization, is a private, non-profit corporation dedicated to building Oneida County's economy and positive image through tourism and convention development, events, and the marketing of the county on a global basis.
Contact:
Kelly Blazosky
(315) 724-7221
Tim Trainor
(315) 797-7970 Ext. 101
tt@trainor.com