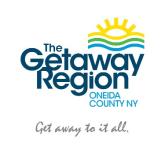 Utica, NY
- A night. A weekend. A week. If you're a young family, a boomer couple, or a destination golfer, Oneida County will be inviting you to "get away from it all" by coming to "The Getaway Region" to "Get away to it all"! The Oneida County Convention and Visitors Bureau unveiled its new brand and marketing strategy at its Annual Meeting Thursday evening at historic Fountain Elms on the Munson-Williams-Proctor campus. Working with Trainor Associates of New Hartford, the OCCVB Board of Directors, President Kelly Blazosky, and industry stakeholders spent several months of research, including an intensive Discovery process, to document and quantify Oneida County's Assets, Core Brand Values, and Brand Personality attributes, to develop Target Visitor Profiles and a corresponding Core Brand Message to connect with them. "It became obvious that there were tangible reasons that Oneida County realizes a $1.1 billion tourism impact each year," said Blazosky. "Oneida County offers a wealth and variety of things that many who live here take for granted, but are appreciated by visitors. As a result, many visitors come each year for specific reasons. But we have never collected that information, used it to develop Visitor Profiles, brand Oneida County accordingly, and then message out to similar visitors to attract them here." Many attractions, destinations, events, and entertainment venues have promoted themselves individually without the benefit of an overall County promotional umbrella. All of these assets have never been collectively identified, organized, categorized, and promoted under one compelling brand and brand message for Oneida County until now. This will provide a compelling "hook" for visitors to consider Oneida County as a destination, paving the way for each of these different organizations to attract even more individually. Three Target Visitor Profiles were selected to launch the new campaign to, two of which (Young Families and Boomer Couples) show the highest return on investment (ROI) potential, and one (Destination Golfer) as a test to attract a new Visitor Profile that otherwise might not think of Central New York or Oneida County, thereby creating a new market of visitors. "Each of these Target Visitor Profiles reflect audiences who want 'to get away from the rat race', 'get away from it all'," said Tim Trainor, President of Trainor Associates. "The word 'getaway' projects a sense of intrigue, escape, fun, excitement, and romance. Whether it's a night, a weekend, or a week, Oneida County offers a close and affordable 'getaway', to which to 'get away to it all', with our abundance of recreation, entertainment, events, attractions, culinary and dining, and more. We're within a 4-5 hour drive of many of the Northeast's major metropolitan areas, and for others just one or two counties over. It might be a night for dinner and a Broadway Show at the Stanley, a concert at Turning Stone, a week of daytrips for a young family including visiting Sylvan Beach, taking a Saranac Brewery tour, a trip to Cooperstown, etc., or a group of golf buddies looking to spend a few days playing more and spending less while enjoying our outstanding dining in the evening." Future Target Visitor Profiles will be further developed and marketed to in the future including: - Snowmobiling - Hunting - Fishing - Ice Fishing - Skiing - Adirondacks Base Camp (Where visitors stay in Oneida County and daytrip to the Adirondacks for attractions like Enchanted Forest Water Safari, hiking, biking, boating, and more.) - "Stay here, Go there" (Where visitors lodge and dine in Oneida County but daytrip to attractions like the Baseball Hall of Fame in Cooperstown.) "We are already attracting large numbers of these Target Visitor Profiles and will look to encourage even greater numbers in the future," said Blazosky. "But the three specific Target Visitor strategies that we are promoting are designed to have a more immediate impact on attracting new visitors." Trainor says the firm is already deep into its specific 8-Point Plan for moving Oneida County forward within a methodical, proven process that will ensure growth. "Oneida County first needed a solid brand foundation and strategy to execute its vision and mission and achieve its goals and objectives," Trainor said. "Then a specific roadmap needed to be developed to implement the strategy, ensure it meets the designated timeline, and metrics to measure its success." Tourism accounts for a significant part of Oneida County's economy and in 2008, Tourism impact generated more than $1 billion, with an increase of 4 percent over the previous year despite being faced with the worst economy since the 1930s. Many visitors to Upstate New York, including those who dine and lodge in Cooperstown and the Adirondacks, travel to Oneida County to visit, attend events such as the theater, visit museums, take a Saranac brewery tour, golf, snowmobile, hunt, and fish, among other activities. A brief summary of the 8-Point Plan:
1. Document the Facts
a. Oneida County Tourism Facts b. $1 Billion+ in Tourism Impact
2. Communicate & Educate
a. Media, Government, Businesses, Residents
3. Define the OC Product
a. Recreation, Attractions, Culinary, History, Multi-Cultural
4. Brand Oneida County Region
a. Romanticize the Area
5. Implement 1-3 Core Marketing Strategies
a. Recreation, Events, Attractions, Vacation Base
6. Develop Supplemental Strategies
a. Adirondacks, Snowmobiling, Hunting, Fishing
7. Prove the Business Case
a. Demonstrate Visitor Growth vs. Investment in Promotion
8. Improve Oneida County Image
a. Develop pride in community b. Improve public perception ###
About the Oneida County Convention & Visitors Bureau (http://www.oneidacountycvb.com/)
The Oneida County Convention & Visitors Bureau serves to implement successful promotional and marketing activities aimed at seeking and attracting increasing numbers of conventions and meetings, bus and group trips, and tourists and vacationers to be visitors and consumers in Oneida County. The OCCVB operates visitor information booths and displays, maintains effective and widely accessible visitor information services, and secures and manages resources for the conduct of Bureau programs.
About Trainor Associates (http://www.trainor.com/)
Founded in 1985, Trainor Associates is a growth strategy company that works with businesses and organizations to increase their brand share of mind, business revenue, and market share in an increasingly complex marketplace. With a national reputation for exceptional ingenuity, Trainor is a trusted advisor for growth strategy, innovation, brand strategy, customer strategy and marketing, advertising, and online marketing. Trainor leverages traditional and online channels to grow a brand's revenue, profit, and return on investment (ROI), assisting small, medium, and Fortune 500 B2B and B2C companies and organizations develop business, brand, and marketing strategies and programs for strong, sustainable growth.
CONTACT
: Kelly Blazosky kelly@oneidacountycvb.com 315.724.7221 Timothy Trainor tt@trainor.com 315.797.7970 x101