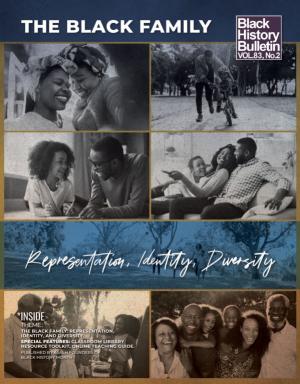 Scheduled for Saturday, February 27, 2021 from 1-2:30 PM
Utica, N.Y. – Join the Utica/Oneida County Branch NAACP to celebrate Black History Month 2021 with its annual program hosted by History Center. This virtual event will follow the 2021 national theme, The Black Family: Representation, Identity, and Diversity, which provides a rich tapestry of images for exploring the African American past and present.  The program features a variety of presentations including a speech from Pastor Angela Carter, performances by Jonathan "J Easy" Brooks and Nomadic Voices, and Black History Moments with students from the Mohawk Valley Jr. Frontiers and Young Scholars. Members of the NAACP will also share information about their organization and community announcements.    
This online celebration takes place on Saturday, February 27, 2021 starting at 1:00 pm. Free and open to all. Advanced registration is required and can be completed at https://www.oneidacountyhistory.org/programs.html. Registrants will receive a link and instruction on how to join this online event after registration is complete. For more information on the national theme, please visit https://asalh.org/black-history-themes/.
The Utica/Oneida County Branch NAACP is a Civil Rights advocacy organization. The purpose of the Utica/Oneida County branch of the National Association for the Advancement of Colored People shall be to improve the political, educational, social and economic status of minority groups; to eliminate racial prejudice; to keep the public aware of the adverse effects of racial discrimination; and to take lawful action to secure its elimination, consistent with the efforts of the national organization and in conformity with the articles of Incorporation of the Association, its Constitution and By-Laws, and as directed by the National Board of Directors.
The Oneida County History Center is a private 501(c) (3) not-for-profit educational institution dedicated to preserving the history, heritage, and culture of the Greater Mohawk Valley for present and future generations. Admission to this program is free for the general public; donations are encouraged. Please contact the History Center at 315-735-3642 or visit the OCHC website (www.oneidacountyhistory.org) for additional information.
###
Registration Link: https://zoom.us/meeting/register/tJ0lde2trDMuG9X2AYh3kLDi1Km_LJ3ioHmG
Photo Caption:  ASALH Black History Month Bulletin Cover, Vol. 83, No.2 (from https://asalh.org/wp-content/uploads/2017/05/BHB-TheBlackFamily-small-600x767.jpg) 
Contact:
Rebecca M. McLain
Executive Director, Oneida County History Center
315-735-3642