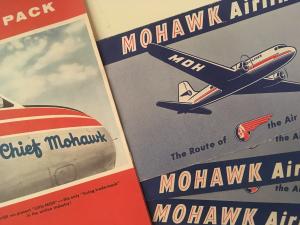 Scheduled for Saturday, December 3, 2022, at 2:00 PM
Utica, N.Y. -- On December 3 at 2:00 p.m., the Oneida County History Center will host Jim Coulthart, a local amateur military aviation historian, who will share his research on Mohawk Airlines. This hour-long presentation covers the history of central New York's regional airline, from the early years as Robinson Airline through to its demise in the early 1970s. This program is free and open to the public.
First headquartered in Ithaca, NY, Mohawk Airlines operated from the Oneida County Airport in Oriskany, NY. It was a regional passenger airline that covered the Mid-Atlantic region of the United States from the mid-1940s until it was bought by Allegheny Airlines in 1972.
At its peak, it employed over 2,200 personnel. It was a pioneer in regional airline operations, including being the first airline in the United States to hire an African American flight attendant and the first to offer a pressurized cabin. Coulthart will discuss the organization's evolution, key personalities, aircraft, and several air crash tragedies.
###
PHOTO CAPTION:   Promotional Brochures for Mohawk Valley Airlines
ABOUT:
The Oneida County History Center is a private 501(c) (3) not-for-profit educational institution dedicated to preserving the history, heritage, and culture of the Greater Mohawk Valley for present and future generations. Admission to this program is free for the general public; donations are encouraged. Please contact the History Center at 315-735-3642 or visit the OCHC website (www.oneidacountyhistory.org) for additional information.
Contact: 
Patrick Reynolds