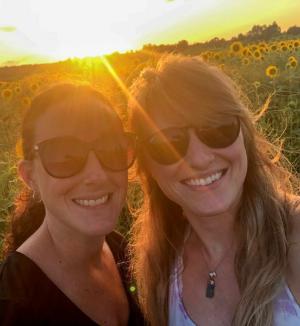 Utica, NY (August 18, 2020) — Oneida County Tourism (OCT) is excited to celebrate the 100th anniversary of the 19th Amendment (Women's right to vote) in conjunction with their 2020 Sunflower Selfie Project. The purpose of this project is to educate locals on the history of our state and encourage them to visit Wagner Farms now through mid-September and post a selfie in the sunflower fields with the hashtag #SunflowerSelfieNY.
Oneida County Tourism President Kelly Blazosky said, "New York State has led the nation in women's rights initiatives. To celebrate the 100th anniversary of Women's Right to Vote, we launched a fun and creative way for people of all ages and abilities to connect with one of the founders of our nation's women's rights, Elizabeth Cady Stanton, born in nearby Johnstown, NY. Stanton, who wrote under the pseudonym "Sunflower," captured the important role of women in society, advocated for children and the less fortunate, and inspired movements that forever transformed our state and nation. The sunflower fields are awe-inspiring and represent the beauty of nature. We encourage everyone to visit the sunflower fields this summer, take/post a selfie from your favorite spot, and show appreciation for the important women in your life."
August 18, 2020 marks the 100th anniversary of the 19th Amendment when the words, "the right of citizens of the United States to vote shall not be denied or abridged … on account of sex," were added to the U.S. Constitution.
Earlier this year, OCT released their 2020 Travel Guide which featured a sunflower field image from Wagner Farms in Rome, NY. This image is used to highlight the Sunflower Selfie campaign. This project is also a wonderful way to explore locally at a location where people can enjoy space, nature and events safely. Ron, the owner of Wagner Farms, is also selling merchandise promoting this campaign.
Elizabeth Cady Stanton was an American suffragist, social activist, abolitionist and leading figure of the early Women's Rights Movement. Using the pseudonym "Sunflower," Stanton wrote articles about women's rights for The Lily, the first newspaper for women, between 1849 and 1853. Stanton's home in nearby Seneca Falls, NY is now part of the Women's Rights National Historical Park. For more information, visit the Elizabeth Cady Stanton Hometown Association at https://www.ecstantonhometown.org.
###
Contact:
Sarah Foster
Director of Media Relations
(315) 749-8958