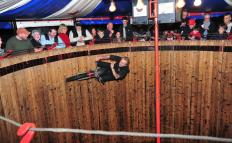 Unique seasonal Hudson Valley happenings
Orange County, N.Y.
- Goats, Mikro bikes, brews, bonfires! They're all part of exciting "only-happening-here" seasonal events sure to make your next visit to the Hudson Valley a unique and memorable experience. Already coming for the skiing and snow tubing, popular winter pastimes in Orange County? Maybe you love the scenic views of the winter landscape from the cozy B&Bs or the home-grown ingredients served in the restaurants and wineries. Whatever lures you, take some time to look over the extensive calendar of events on
www.orangetourism.org
before your next visit.so you won't miss a single, special thing. With over 450 motorcycles from 1897 and onward in their spacious galleries, Motorcyclepedia in Newburgh is all about unique. The lower level of this 85,000 square-foot museum sports a "Wall of Death" motordrome, a carnival phenomenon dating back to the early 1900's. See it in action on the 12th and 19th of February at 1pm, when Guinness world record holder Pit Lengner demonstrates his Kamikaze skills using one of his own Mikro Bikes just a little over 2 feet long. He's amazing. One ticket covers museum admission and a once in a lifetime opportunity to see this legendary rider. A boater's delight during warm weather, Orange County's largest freshwater attraction, 9-mile long Greenwood Lake, sparkles with cold weather fun, too. Put on your long johns and visit the Winter Carnival at the Breezy Point Inn. There's a changing menu of fun each day from Friday evening, February 15th through Sunday, February 17th. Who's game for a frozen T-shirt contest?  Warm up afterward by the enormous bonfire or at the spaghetti eating competition. Ice bowling, hockey shooting and more icy fun is part of the line up, but even if Mother Nature doesn't cooperate, there'll be live music, dancing, carnival games and more amusements. It's a great reason to spend the entire weekend at this popular vacation spot. Skiers may want to save a little time to practice on the nearby slopes before returning for the family friendly, crazy-fun competitions planned at Warwick-based Mount Peter Ski Area's Winter Carnival on February 24th.  Authenticity is one of the things that makes the 3-day George Washington's birthday celebration at Washington's Headquarters in Newburgh so extraordinary, not to mention free admission and birthday cake! Our first president and Commander-in-Chief spent more time at this beautiful location overlooking the Hudson River than anywhere else during the Revolutionary War. The glorious views from the lawn here at our nation's first public historic site are inspirational. From noon to 4pm on February 16th, 17th and 18th, greet the General and other re-enactors who'll take you back in time. Magic shows, storytelling, candle dipping and music make it an entertaining event for children and adults alike. For those of suitable age, there's even more great incentive to be patriotic this Presidents' Weekend.   Right around the block from Washington's Headquarters sample craft beers at Newburgh Brewing Company's grand taproom located in their renovated 1850's box factory. Proceeds from sales of their "von Steubon's Gose," named for German-born Major General Friedrich Wilhelm von Steuben, a key player in the victory of the War for Independence, are donated to Washington's Headquarters. Register early enough and you may get a coveted spot at their "Cooking with Beer" seminar on February 16th. Everyone cooks, eats and drinks at this delicious brewery affair. The number of participants is limited, so if you want to learn how to brew up some of their special recipes in your own kitchen, make a reservation as soon as possible. Did you know that Hudson Valley maple syrup was a main ingredient in several of the dishes recently served at the President's inaugural luncheon? While it isn't harvested for commercial purposes at the Hudson Highland's Nature Museum in Cornwall, they have a fabulous program to let families learn all about this sweet process. It starts with a Maple Sugar Festival on March 2nd.  That day, in addition to the one-hour tours through the sugar bush, hear Native American story-telling around a campfire, join in crafts and games, and sample some sweet treats of the season. Sugar bush tours will also be held on March 3rd, and the weekends of March 9th and 10th, 16th and 17th, and 23rd and 24th.  Come prepared for mud or snow on this unforgettable outdoor nature experience. Held any adorable baby goats lately? You'll get the chance when you accept the invitation for a behind the scenes look at where our food comes at Edgwick Farm in Cornwall. It's the first time they're offering these fun, educational tours to the public. Reservations are mandatory since only very small groups will be taken on the 1 to 1 ½ hour tours of the goat farm, microbrewery, and creamery. What's in store? After you hug the goats and maybe even witness a live birth, visit the milking parlor, the cheese room and taste some goat cheese and milk. Then bring home some of the award-winning products sold in the farm store. Tours are available from February 1st through April 29th on Mondays, Wednesdays, Fridays, Saturdays and Sundays at 10am and 2pm. Orange County, at the crossroads of the NY State Thruway and I-84, is a breeze to reach by car. Find a complete list of attractions, lodging, and events at
http://www.orangetourism.org/
. For a free copy of the Orange County Travel Guide, email
tourism@orangecountygov.com
or call 800-762-8687.  Orange County Tourism is headquarters for tourism in the county and is part of the I LOVE NEW YORK program. RESOURCES:
###
Contact
: Mary Ann McCarthy (845) 615-3860
mmccarthy@orangecountygov.com
Photo
: Pit Lenger rides the motordrome at Motorcyclepedia Museum in Newburgh.