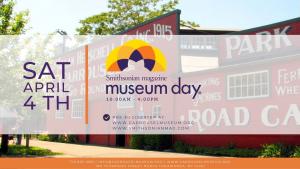 North Tonawanda, N.Y. – The Herschell Carrousel Factory Museum will open for the season on Wednesday April 1, 2020. The museum's spring hours are Wednesday - Sunday from noon until 4:00 pm. Vistors can find more information on pricing and exhibits on the museum's website: www.carrouselmuseum.org.

Visitors can receive free admission to the Herschell Carrousel Factory Museum during Museum Day – an annual event sponsored by Smithsonian magazine – will be held on Saturday April 4 from 10:00 am - 4:00 pm. The museum will have docents on site to give mini tours, and woodcarvers giving demonstrations on carving. There will be family activities in our Children's Gallery including, music box making and embossed foil art.

Participating museums and cultural institutions across the country will provide free admission to anyone presenting a Museum Day ticket. Visitors can go to smithsonianmag.com/museumday and enter their ZIP code for a list of participating locations.Participants can download one ticket per email address. Once a site is selected, you will not be able to change it. The ticket provides free general admission for two people on Museum Day.
###
Contact: Megan Hahin, Executive Director, 716-693-1885