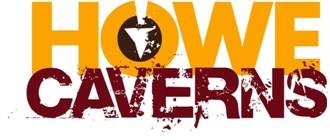 HOWES CAVE, N.Y.
--
Orange County Choppers (OCC), the custom motorcycle manufacturer headquartered in Newburgh, has started production of a cave-themed motorcycle for Howe Caverns. This year OCC, widely known through the television series
American Choppers,
celebrates its 10
th
anniversary, while Howe Caverns celebrates the 80
th
anniversary of its re-opening to the public in 1929. The cave motorcycle will make its debut during the 10
th
Anniversary Celebration of OCC in Newburgh on April 26.  It is scheduled to star in the June episode of
American Choppers.
The bike will be on public display at Howe Caverns' 80
th
anniversary celebration on Aug. 1, where raffle tickets will be sold for one year for a second, identical cave chopper that will be the grand prize in a drawing.  "The story of the cave chopper began with a mid-March phone call from Michael Galasso to OCC," said Howe Caverns' General Manager Robert Holt. Mr. Galasso is vice president of aggregate and hot mix production for Cobleskill Stone Products and president of the board of directors of the Cave House Museum of Mining & Geology. The Cave House Museum is adjacent to the natural entrance to Howe Caverns and is a repository for history of caving, mining and geology in Howes Cave.  "I left a message and the response from OCC's Tom Joyce was immediate," Mr. Galasso said. "Within two weeks, the motorcycle was in design and being built," he said. Mr. Joyce said, "The idea of creating the cave bike for Howe Caverns is a perfect fit with OCC's  founder, Paul Teutul Sr., wants the company to do: Advance New York tourism and boost New York's communities. We're very proud to work with Howe Caverns, a national treasure right here in New York State." "We expect to raise about $10,000 in raffle ticket sales, with proceeds benefitting the Cave House Museum and a yet-to-be designated non-profit organization in Schoharie County," Mr. Galasso said. Tickets will be sold throughout the year with the drawing for the winner taking place during the annual Cave House Museum benefit golf tournament in 2010. Custom bikes developed by OCC include those made for the National Hockey League and The Army Chopper commissioned by the Pentagon. Their Liberty Chopper's copper finish has pieces of copper from the Statue of Liberty. One of their most popular bikes is The Fire Bike, designed Paul Teutul (Paulie) Jr, to commemorate the New York firefighters who lost their lives on 9/11.  The bike has a steel rivet from the World Trade Center integrated into its design. Starting this spring, Howe Caverns will sell OCC merchandise in their on-site shops.
ABOUT ORANGE COUNTY CHOPPERS
OCC is a custom motorcycle manufacturer founded in 1999 by Paul Teutul Sr. and Paul Teutul Jr. Their international headquarters is located in Newburgh and includes their production and retail facilities. The company is featured on
American Chopper
, a reality TV show that first aired in September 2002 on the Discovery Channel. The company began as a sideline to the family's steel manufacturing company that was founded in the late 1970s by Paul Sr. For more information, visit
http://www.orangecountychoppers.com/
.
ABOUT HOWE CAVERNS
Howe Caverns is New York State's second most-visited natural attraction, located about 45 minutes southwest of Albany, off Exit 22 of I-88, between Albany and Cooperstown.  Open daily, except Thanksgiving and Christmas days when it is closed, Howe Caverns' hours are from 9 a.m. to 5 p.m. through March 31. From April 1 through October, daily tours are from 9 a.m. to 6 p.m. For additional information, call 518-296-8900, or visit
http://www.howecaverns.com/
###
MEDIA CONTACT:
Kathy Condon * Condon Communications PHONE: 518-436-1103 E-MAIL:
kcondon@netheaven.com