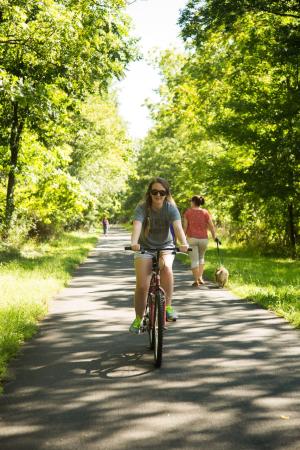 Orange County Parks and Tourism Team up to Promote this Popular Trail
Orange County, N.Y. (May 3, 2021) – Warmer weather beckons us to explore the great outdoors, and there's no better place to take in the scenic views of the beautiful Hudson Valley than the Heritage Trail. Built on the former main line of the Erie Railroad, this 18.4-mile linear trail runs from Harriman to Middletown, winding through a bird and wildlife sanctuary, historic landmarks, murmuring streams, rolling meadows, and charming communities with one-of-a-kind shops, eateries, and more.
The Heritage Trail was the first multi-use asphalt trail developed as part of the Orange County Parks system. It offers scenic vistas as well as perfect spots for walking, biking, and rollerblading. Approximately 500,000 visitors utilize the trail each year.
In November 2020, the county began a 3.25-mile extension of the trail from Hartley Road in the Town of Goshen to Palmer Avenue in the City of Middletown. An additional 2.5-mile extension to East Main Street in Middletown is expected to be complete this spring.
"Many of us who call Orange County home are familiar with the Heritage Trail and all of the wonderful recreational opportunities it offers," said Orange County Tourism Director Amanda Dana. "As one of the most popular outdoor recreation destinations in the county, the expansion of the trail will further enhance our communities, providing even more accessibility for residents and visitors to enjoy our region's natural beauty and providing new opportunities for businesses looking to meet the demands of the trail's visitors."
The three current available access points to the trail are located at the Chester Depot Museum in the Village of Chester; St James Place in the Village of Goshen; and Park and Ride Lot B in the Village of Monroe. Orange County is currently working on a new access point in Harriman.
"County Executive Neuhaus has made the Heritage trail expansion and investment a priority. His mandate was clear, and we are excited about the many benefits that will now come from this investment in the Heritage Trail expansion," said James Brooks, Commissioner of Orange County Parks, Recreation, and Conservation Department. "Not only will our residents have more access to recreational opportunities, but the commercial districts along the trail serve as attractive locations for businesses, providing more places to work and play in Orange County."
Businesses have already benefited from the trail's recent expansion. Trailside Treats Creamery in Goshen and Mason's Marketplace in New Hampton have both seen an uptick in visitors due to the venues' close proximity to the trail. More businesses are expected to flourish in the area, particularly with the revitalization of Middletown, existing popular trail destinations such as Clemson Bros. Brewery and the creation of the Rail Trail Commons in the City of Middletown.
"Eighty percent of our customers come from Heritage Trail activity," said Trailside Treats Owner Paul Corey. "The expansion of the trail has greatly helped our business, providing the parking and expansion routes has made our location more convenient for visitors coming on and off the trail.  Our business has experienced incredible growth since we started back in 2012 as we watch our employee count go from 3 employees to 20! People from all over the region now visit Goshen to get some fresh air, exercise, and, of course, ice cream!"
"We're so excited to see the Heritage Trail come to completion between Goshen and Middletown," said Mason's Marketplace Owner Julie Wright. "Mason's used to be the Wawayanda Inn back in the 1800s when the train would go right by. To see the train tracks revitalized has been so exciting to watch. The amount of people using the trail for family outings and exercise has been great to see. We have seen increased traffic, especially on weekends, and people are thrilled to have a destination to walk or bike to for lunch!"
As the world reopens, Orange County, N.Y., invites residents and visitors to escape, enjoy and explore its wide-open spaces. For a full list of attractions, lodging and dining options available at this time, please visit orangetourism.org/spring Additionally, a fun, free, 56-page travel guide is available for digital download at OrangeTourism.org/travel-guide.
About Orange County Tourism
Orange County Tourism, based in Goshen, N.Y., is the county's tourism headquarters and a participant in the I LOVE NY program. A comprehensive listing of area attractions, lodging and events can be found at OrangeTourism.org. Like Orange County Tourism on Facebook for the latest news on local happenings.
###
Photo features:
Heritage Trail.jpg
The Heritage Trail is a 18.4-mile linear trail along the former main line of the Erie Railroad that runs from Harriman to Middletown, N.Y.
For more information, contact:
J.P. McGuirk
Focus Media, Inc.
845-576-2212