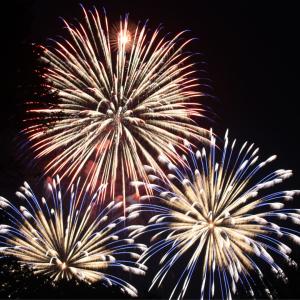 Orange County, N.Y. (June 28, 2022) – Celebrate Independence Day all weekend in Orange County, N.Y., with fireworks, fairs and history punctuated by the blast of a real cannon. With July 4th falling on a Monday, the celebration of our nation's birth begins on Friday and continues for four days.
"Orange County, N.Y. is the perfect place to let your patriotism shine, with spectacular fireworks and history lessons that bring the past to life!" said Amanda Dana, Director of Orange County Tourism & Film. "Come for the day, or better yet, stay for the weekend! See for yourself all the fun Orange County has to offer!
Here are some highlights:
Friday, July 1
Annual Fireworks Show in Washingtonville, Vern Allen Park, Washingtonville, 6 p.m.
Join the annual Washingtonville Fireworks Show! Live music by the Hillbilly Parade, food vendors and fireworks add up to an amazing time.
https://orangetourism.org/events/annual-fireworks-show-in-washingtonville/
Saturday, July 2
Independence Day at Fort Montgomery, 690 Route 9W, Fort Montgomery, noon;
Join us for a special Independence Day celebration at Fort Montgomery. Witness the ROAR and THUNDER at the Grand Battery when the fort's 6-pounder cannon "Ana" is fired at NOON!  Fife and Drum Music to Follow. Camp activities, military, and site tours drills will take place throughout the day.
https://orangetourism.org/events/independence-day-fort-montgomery-state-historic-site/
West Point Band Presents Independence Day Celebration, Trophy Point Amphitheater, 7:30 p.m. (Rain date, July 3.)
What better way to celebrate America's independence than with the Army's oldest band! Grab a blanket, bring a picnic, and enjoy music ranging from traditional field songs to today's popular hits – and everything in between. As always, this performance concludes with a spectacular fireworks display over the Hudson River. Expect a large audience for this popular annual highlight. Arrive early to get a good spot on the hill.
https://orangetourism.org/events/west-point-band-presents-2022-music-under-the-stars-concert-series-5/
Saturday and Sunday, July 2 and 3
Great American Weekend, with Goshen Rotary 5K/10K Races, Orange County Government Center, 255 Main St., Goshen. Race time, 8 a.m. Festival, 9 a.m. - 5 p.m.
Since 1982, the Great American Weekend has defined Goshen as a great American community, offering activities for every member of the family. Sponsored by the Goshen Chamber of Commerce, the event draws 20,000 people to stroll the nine-acre village surrounding the First Presbyterian Church, perusing more than 150 craft vendors and enjoying live music, great food and children's activities. The event has funded many programs benefiting the community.
The 5K and 10K races both start at 8 a.m. July 2 at the Orange County Government Center, 255 Main St., Goshen, and end at the Surrogate Courthouse on Park Place. Awards will be presented at the Surrogate Courthouse. The races are hosted by the Goshen Rotary Club.
https://orangetourism.org/events/great-american-weekend/
https://orangetourism.org/events/great-american-weekend-goshen-rotary-5k-10k
Sunday, July 3
Independence Day Fireworks at Orange County Fairgrounds, 239 Wisner Ave., Middletown. 6:30 p.m.
The Town of Wallkill invites all to the fireworks spectacular.
https://orangetourism.org/events/independence-day-fireworks-orange-county-fairgrounds/
Monday, July 4
Cornwall Fourth of July Celebration, Cornwall Town Hall, 183 Main St., and area, all day.
Come for a day packed with activities, culminating with fireworks at 9:30 p.m. The celebration, a Hudson Valley highlight since 1950, starts with the Independence Day Breakfast at the Highland Engine Company. Other events begin at 10 a.m. and continue all day, with inflatable rides, an artisan craft fair, pie-eating contest, live music, the Main Street Mile run, a parade down Main Street, a historic pageant, and more, all leading up to the fireworks.
https://orangetourism.org/events/cornwall-4th-of-july-artisan-craft-faire-and-fireworks/
July 4 Grand Celebration at Washington's Headquarters State Historic Site, 84 Liberty St., Newburgh, 11 a.m. - 4 p.m.
It's a double celebration! Join us at Washington's Headquarters as we celebrate our nation's birthday alongside the headquarters' 172nd anniversary of becoming the first publicly owned historic site. Also called Hasbrouck House, the site overlooking the Hudson River was George Washington's home while he commanded the Continental Army during the final year of the Revolutionary War.
https://orangetourism.org/events/july-4th-grand-celebration-washingtons-headquarters-state-historic-site/
LEGOLAND® Red, White and BOOM! LEGOLAND® New York Resort, 1 Legoland Boulevard, Goshen, N.Y.
10 a.m. - 10 p.m.
Come for LEGOLAND's® first-ever "Bricktastic Fourth of July celebration" with a unique fireworks show. The park will stay open late for the celebration, which is included in the price of a ticket.
https://orangetourism.org/events/legoland-fireworks/
Independence Day at New Windsor Cantonment and Knox's Headquarters
10 a.m.- 5 p.m.
Celebrate the Fourth of July at two sites hallowed by the soldiers who won our independence:
At New Windsor Cantonment, witness a military drill and cannon firing at 2 p.m., followed by a children's musket drill. At 3 p.m., there is a visitor-assisted reading of the Declaration of Independence followed by another military demonstration.
At the former headquarters of Major General Henry Knox, commander of the American artillery in the Revolutionary War, join a house tour, which starts hourly from 10 a.m. to 4 p.m. except at noon, and the firing of a small cannon at 1 p.m. and 4 p.m.                                                                                                                                                                                
https://orangetourism.org/events/independence-day-new-windsor-cantonment-knoxs-head-quarters/
About Orange County Tourism & Film
Orange County Tourism & Film, based in Goshen, N.Y., is the county's tourism headquarters and a participant in the I LOVE NY program. A comprehensive listing of area attractions, lodging, and events can be found at www.OrangeTourism.org. Additionally, a fun, free, 56-page travel guide is available for digital download at https://orangetourism.org/travel-guide/.
###