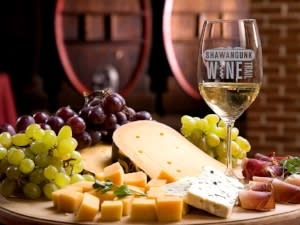 Say hello to spring with fairs and festivals in the Hudson Valley
Orange County, N.Y. – Celebrate the beauty and flavors of the Hudson Valley region at unique spring festivals and fairs in Orange County, N.Y. From scrumptious mac and cheese samplings to eco-friendly Earth Day activities, there's something special for every age and taste, just one hour north of New York City.
Orange County Tourism's staff recommends taking a look at their full events calendar to explore additional happenings for your springtime getaway. Make your visit even more unforgettable with overnight accommodations at one of Orange County's select hotels or cozy inns.
Here's a sampling of some festivals on the calendar in Orange County, N.Y. this spring:
Angry Orchard's Sugar Shack Weekend, Saturday, April 7 and Sunday, April 8, 12:00-5:00 p.m.: Dive into spring with a weekend of maple and cider filled festivities for those 21 and over. Enjoy Chef Shawn Hubbell's cider-infused brunch menu, syrup samples from Crown Maple, and a glass of Angry Orchard's instant classic cider: Maple Wooden Sleeper. http://www.angryorchard.com/our-orchard/events
2018 Tree Festival, Saturday, April 21, 10:00 a.m. – 4:00 p.m.: Celebrate Earth Day and Arbor Day with Emmerich Tree Farm's first annual tree planting session. This family-friendly event will have activities for all ages, including a scavenger hunt, coloring book station, and live entertainment. http://emmerichtreefarm.com/tree-festival/
Wine & Bites Weekend, Saturday, April 21 and Sunday, April 22, 10:00 a.m. - 5:00 p.m.: Savor the region's finest wines one delicious sip at a time, paired with a variety of delectable food bites. Receive a souvenir wine glass at the starting winery of your choice and continue on a self-guided tour of the Shawangunk Wine Trail. www.shawangunkwinetrail.com
Newburgh Urban Farming Fair, Saturday, April 28, 12:00-4:00 p.m.: Celebrate fresh food, local vendors, crafts, and farm fun while learning about urban farming and gardening. Participate in how-to demonstrations to discover urban farming techniques you can practice in your own yard and neighborhood. http://www.newburghurbanfarmandfood.org/events/
Hudson Valley Mac and Cheese Fest, Saturday, April 28, 1:00-5:00 p.m.: Indulge your taste buds with culinary creations from local restaurants and chefs while deciding who will be crowned the King of Mac and Cheese. Tickets for this family event include self-guided tours of Brotherhood Winery and mac and cheese samples to savor all day long. http://www.hvmacandcheesefest.com/
Be sure to visit Orange County Tourism's Facebook page: Orange County Tourism NY. It's a fabulous guide to up-to-the-minute postings of area events and activities, great times, and memorable experiences available to visitors.
Also visit Orange County Tourism's innovative and user-friendly new website: www.orangetourism.org.
About Orange County Tourism
Orange County Tourism, based in Goshen, N.Y., is the county's tourism headquarters and a participant in the I LOVE NY program. A comprehensive listing of area attractions, lodging, and events can be found at www.OrangeTourism.org. For a free copy of the Orange County Travel Guide, e-mail tourism@orangecountygov.com or call 845-615-3860.
###
Photo features: Shawangunk Wine Trail
For more information, contact:
Christine Cordova
Focus Media, Inc.
845-576-2242