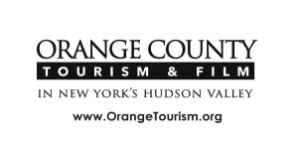 Welcome Back Visitors!
Orange County, N.Y. – Tourism in Orange County, N.Y. rebounded from the worst of the COVID-19 pandemic with a 63.4% growth in visitor spending in 2021, surpassing the Hudson Valley and New York State percentage increases as a whole, a new report shows. Visitor spending increased 49.5% throughout the Hudson Valley and 53.4% statewide, according to the study conducted by the international research company Tourism Economics, an Oxford Economics company.
Tourists spent $909 million in Orange County in 2021, the year that LEGOLAND® New York Resort opened and events such as the Pine Bush UFO Fair and New York Renaissance Faire returned after a COVID-induced year off. Orange County's share of tourist dollars among Hudson Valley counties rose to 24% from 21%.
"The continued success of our Tourism and Film Office has helped economic development in the County and strengthened our economy," said Orange County Executive Steven M. Neuhaus. "It creates and sustains jobs and supports a vibrant business environment. Orange County is an attractive tourist destination and we expect it to continue to flourish."
Across the state, tourists spent $85.5 billion in 2021, the study showed. Tourism Economics researchers studied the impacts that rippled through the economy, beginning with the $52 billion spent directly by tourists and visitors on meals, lodging, purchases and more. The other $33.5 billion came from indirect and induced impacts. Indirect impacts are sectors directly affected by tourism such as food wholesalers, utility providers and other suppliers. Induced impacts are wages spent in the local economy by employees whose wages are generated by visitor spending.
In Orange County, the economic impact was clear. Without the dollars drawn in by tourism, each homeowner would have had to pay an average of $1,095 more in 2021 taxes to maintain government services, the report found. That was the largest tax impact among Hudson Valley counties.
Tourism was responsible, directly and indirectly, for 7.3% of the jobs in Orange County.
Orange led the six-county Hudson Valley region in retail sales, with $383.3 million, the study found. Orange County had the second strongest showing in tourist food and beverage spending at $245.6 million.
"We are thrilled to see that the attractions, accommodations, restaurants and festivals that make Orange County. N.Y. such a wonderful place to visit also contribute so much to its financial strength," said Amanda Dana, Director of Orange County Tourism and Film. "Look at all that we have to offer: a thriving craft beverage scene, prominent festivals, charming, historic lodging options and seasonal attractions for everyone! With all of this, and the county's breath-taking scenery, located just 60 miles from New York City, it's no surprise that tourism is a vital part of Orange County and its economy."
The county boasts many desirable landmarks such as the United States Military Academy at West Point and Storm King Art Center and events such as the Renaissance Faire that people travel to Orange County to experience. The orchards and craft beverage scene are bolstered by the county's famously rich black dirt, left fertile by a receding ancient glacier. The renowned Annual Warwick Applefest is one of Orange County's largest events and draws people in from the surrounding states. When LEGOLAND® New York Resort opened in Goshen, it became the Northeast's first new major amusement park in decades.
In other regionally known events, Orange County Airport hosts the end-of-summer New York Air Show, which is headlined by the Air Force Thunderbirds demonstration squadron.
"We love that more people are discovering all that there is to do in Orange County, N.Y.," Dana said. "With all that we have to offer, we expect our county to become a destination for more and more families looking to make memories."
About Orange County Tourism & Film
Orange County Tourism & Film, based in Goshen, N.Y., is the county's tourism headquarters and a participant in the I LOVE NY program. A comprehensive listing of area attractions, lodging, and events can be found at www.OrangeTourism.org. Additionally, a fun, free, 56-page travel guide is available for digital download at https://orangetourism.org/travel-guide/.
###