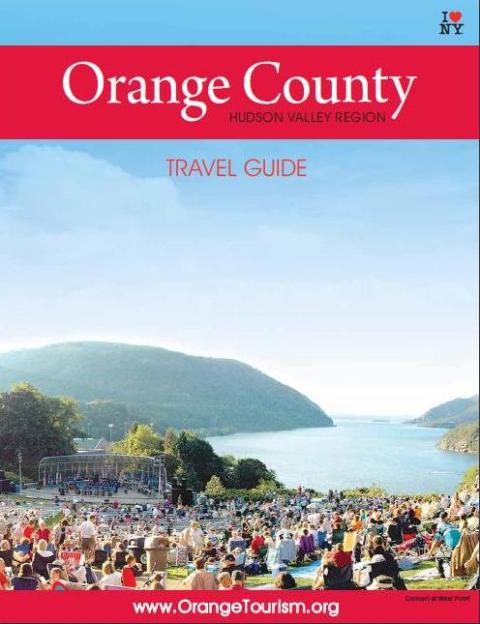 Hudson Valley, N.Y.  – The 2011 Orange County Travel Guide has been flying out of the tourism office with thousands of requests from across the United States and Canada. People are reaching for the guide with the beautiful cover photograph of a concert at West Point overlooking the Hudson River. Colorful photos of some of New York State's most famous attractions can be seen next to vivid descriptions of all there is to experience in this hefty 44-page guide.
Orange County is known for its Hudson River frontage, West Point, wineries, Woodbury Common Premium Outlets, river cruises, excellent farm markets, Sugar Loaf Craft Village, historic sites, Storm King Art Center, and much more. Travelers throughout the world have made Orange County Choppers a major destination for the county, and bike lovers will revel in the new Motorcyclepedia. This fabulous museum traces the history of the motorcycle with over 300 bikes on display. Check out their listing as well as other cool stuff in the new guide.
Summer gas prices are steep, so plan your weekends with the Orange County Tourism Guide and use less than a tank-full. Orange County is only an hour's drive from Manhattan, but a world apart. Guides are free and can be obtained by calling 800-762-8687, or emailing tourism@orangecountygov.com. Complete listings and events can also be found on the web at www.OrangeTourism.org. Orange County Tourism is the headquarters for tourism in the county and is affiliated with I LOVE NEW YORK.
###
Contact:
Susan Hawvermale
845-615-3863
 shawvermale@orangecountygov.com