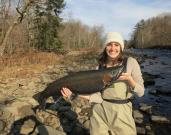 Article by Spider Rybaak
Oswego County, N.Y.
- Lake Ontario's salmon have been making it on the news a lot lately, and for good reason: a steady stream of mature kings and cohos ranging from 8 to 40 pounds has been ascending the Salmon River non-stop since the middle of September, drought conditions notwithstanding. But that's only the half of it. With all that spawning going on, the river is being carpeted with salmon eggs, the favorite food of Oswego County's most popular cold weather fish, steelhead. Aka chromers, steelhead, like the salmon mentioned above, are indigenous to the Pacific Ocean. Both anadromous (they spend most of their adult lives in open water and return to streams to spawn) they were introduced into the Great Lakes in the second half of the last century to help control blooms of baitfish while offering anglers trophy fishing opportunities. But the similarities end there. Steelhead are a strain of rainbow trout, and instead of dying after spawning, they return to the lake to feast on its cornucopia and return to tributaries to spawn again. Their greatest difference, however, is in taste. Salmon indulge in gluttonous lives, pigging out on Lake Ontario's massive schools of bait fish like there's no tomorrow, putting on incredible weight in their 3 ½ years of life. Steelies, on the other hand are a little more fastidious, feeding on the same baitfish, but also on a host of insects...and caviar. Like a siren's song, red caviar draws them out of the safe depths of Lake Ontario each fall and into the dangerous rapids of the big pond's tributaries. And while just about every other fish in the feeder stream dives for cover, cowering in the shadow of the salmon, steelhead run with them, picking off the eggs right after they're dropped, sometimes even while the parents, often big enough to bite the chromer in half, are watching. This noble courage, combined with their gentle dietary habits (they'll take a tiny fly, too), incredible beauty (their color ranges from proof silver in fresh run fish to every shade of the rainbow in fish that have been in the river for a couple weeks) and physical stamina (when hooked, their spectacular leaps and sizzling runs in the battle for freedom are legendary) endear them in the hearts of their fans, from purist fly-fishermen to bottom dragging bait anglers. Come mid-November, when the salmon runs are nothing but fond memories and the crowds of anglers who stood shoulder to shoulder just a few days earlier go deer hunting or settle into winter mode, sinking into armchairs to watch college sports, fresh waves of steelies charge the streams to take advantage of their warmer temperatures and the steady source of caviar swept out from under the rocks all winter long by endlessly shifting currents. Spring gathers the lake's holdouts and sends them running upstream, too. You see, when snowmelt swells the tributaries, sending their plumes two to three times deeper into the lake than normal, the fresh scent hooks the steelies' hormones, drawing them upstream to spawn. Their bellies loaded with eggs or milt, they have little room in their stomachs for food, right when they need it most to climb the raging rapids. Again, their needs are met by protein rich salmon caviar. The action begins this month. October's cooler nights will lower water temperatures to levels trout find comfortable, and they'll rush in like college freshmen to their first party away from home. The Salmon River will see the first schools, followed by the Oswego River. Skinny creeks like Little Sandy and Grindstone will get their fair share immediately after heavy rains. According to experts, this year's crop of steelhead promises to be a great one. "The summer catch out in the lake was good," says Fran Verdoliva, NYSDEC's Special Assistant for the Salmon River. "Based on the last two years, their numbers have been very strong and there shouldn't be any difference this year." So if you've ever dreamt of hooking a rainbow, now's the time to do it. You won't find a pot of gold at the end. What you will get, provided you're skilled with rod and reel, is the light-tackle fight of your life from one of nature's most beautiful fish, set against a backdrop of quivering autumn colors. And that's nice; just before winter and all. For year-round fishing conditions in Oswego County and visitor information, call 1-800-248-4FUN (4386) or go to
http://www.visitoswegocounty.com/
.
Spider Rybaak is an award-winning outdoor writer who has been published in more than 20 periodicals. He is the author of "Fishing Eastern New York" and "Fishing Western New York" guide books that cover 429 streams and lakes in New York State. Contact him at srybaak@yahoo.com. Check out his blog at http://fishingandhuntinginoswego.blogspot.com/
Photo caption
New York City attorney Emily Viglietta holds a beautiful steelhead taken last fall on the upper Salmon River in Oswego County.