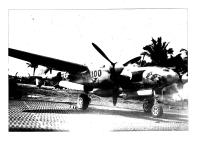 Oswego, N.Y.
-- The first lecture of the 2010 H. Lee White Marine Museum history series will be presented Saturday afternoon, April 10, at 1:30 p.m.    "Our featured speaker, Steve Wapen, will present the topic 'Aces High - Oswego's Connection to a Crack World War II Fighter Group.' The Museum has been offering these informative programs free to the public since 2002," noted Executive Director Mercedes Niess.  Wapen will present the story of the 475
th
 Fighter Group and his father's proud association with it.  Wapen's talk will include rare Army Air Force photographs of "Satan's Angels" wartime activities in New Guinea, New Britain, the Philippines and Japan, along with several books and magazines on the 475
th
 FG, and a scale model of "Putt Putt Maru," Group Commander Col. Charles MacDonald's deadly P-38 mount.  The museum maintains and operates the National Historic Landmark tugboat, LT-5, which served in the Normandy Invasion of World War II. Steven G. Wapen is a native Oswegonian who grew up on Lake Street and has had a lifelong interest in American and military history.  Wapen is a graduate of Oswego State and hold masters degrees from the Rockefeller College of Public Affairs at the University at Albany and the School of Labor Relations at Cornell University.  He has worked in human resources and labor relations for over 30 years in the public and private sectors throughout the country.   Wapen currently resides in Chaplin, CT with his wife, Sharon (LaMay), also a native Oswegonian.  The H. Lee White Marine Museum is located at the end of the West First Street Pier in Oswego's Historic Maritime District.  For more information about this program or other museum activities, contact the H. Lee White Marine Museum at 315-342-0480 or
info@hleewhitemarinemuseum.com
or visit the web site at
http://www.hleewhitemarinemuseum.com/
.    
###
Photo caption:
Pictured is the plane Putt Putt Maru of the 475th Fighter Group. Steven G. Wapen will speak about his ancestor's involvement in this WWII fighter group at the H. Lee White Marine Museum in Oswego, on Saturday, April 10, 2010, at 1:30 p.m..
Contact
: Janet Clerkin Oswego County Tourism and Public Information Coordinator