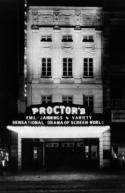 Noteworthy special guests
Plus Free Proctors Ghost Tour
Schenectady, N.Y.
- On August 25
th
the Proctors Volunteer Tour Guides will present a fundraising Psychic Fair from 10 a.m. to 4 p.m.at Proctors Theatre. For believers and non-believers alike, it's time to gather friends for a fun, informative and intense psychic experience and day at the Capital Region's premiere arts and entertainment complex. Tickets are $10. The wondrous Psychic Fair at Proctors is calibrated to thrill and chill participants to the bone with otherworldly experiences, says organizer June Grinter, coordinator of events for the day. "It is only natural that the event should take place at Proctors." She notes that since opening in 1926, mysterious disappearances, ghostly mists, and restless spirits have accumulated as Proctors backstage lore.  According to Grinter, "for the second year, Proctors will be sharing these thrilling experiences with the public with a free Ghost Tour, presented by the knowledgeable and enthusiastic Tour Guides of Proctors. The esteemed Marilyn Sassi, a local expert on the history of Proctors, is director for the Tour Guides at Proctors.  Noted mentalist, Michael Anthony Russo, has amassed an amazing lineup of speakers and vendors for our Psychic Fair.
FREE, GUIDED GHOST TOUR
Running concurrently with the August 25 Psychic Fair, Proctors Ghost Tour takes participants on a spine-tingling journey through places in the theatre that few dare to go. Explore creaky backstage hallways, haunted dressing rooms and eerie basements while hearing firsthand accounts and tales of ghostly hauntings. Brave enough to venture into the unknown at Proctors? The Ghost Tour is free and open to the public.  Running time for Ghost Tour is 45 minutes of information and fun! Ticket Price: FREE with reservation. Space is limited. Reserve now by completing the
ONLINE RESERVATION FORM 
or for more information contact
June Grinter at 
june.grinter@gmail.com
.
     Special Guests, Vendors Share Expertise in Supernatural The August 25 adventurous double-bill includes special guests and vendors from the realm of psychic exploration. Several noted psychic readers will share their expertise and supernatural encounters, making this event a uniquely fascinating and fun experience for everyone. Among the noted special guests will be
Ann Fisher
, a world renowned psychic, hypnotist and ghost hunter who has traveled the globe in search of ghosts. Her spellbinding presentation includes a deeper, eye-opening look into the world of the supernatural and the opportunity to witness even more about her psychic abilities. Ann's presentation will take place in the Fenimore Gallery at 2PM. Participants are urged to register early. Direct from Las Vegas, is Cory Haines, who will perform at 1PM and 3PM. He will delve into the realm of gypsy rituals, ghostly encounters and other mysteries. Cory will guide participants through an old gypsy curse that opens a portal between the mortal and immortal worlds. He challenges those who dare to enter "the center", and relive the Golden Age of the early-1900s spiritualist movement in this theatrical séance experience. Noted mentalist, Michael Anthony Russo, will present, "The Joy of Palm Reading" at noon - a humorous interactive palm reading lecture where Michael teaches participants to read their own hand. Will your hand tell you something about yourself that you don't even know?  Participants will learn that they have the power within to do it themselves! Who knew?! Swami Sadashiva Tirtha  (Author/Shaman/Energy Healer) will present a program at 10 am on Spiritual Science: Realizing the Eagle-Condor Prophecy in 2012. As the Amazon Rainforest Shaman report, this is the beginning of the Eagle-Condor Prophecy (spirituality & science fly side by side). This workshop blends psychic healing with cutting edge technology of cold Lasers, EEG, Heart & brain waves. Marilou Trask-Curtain (Published Author) will present: "Heavenly Communications and Near Death Experiences."  The topic of Marilou's speech will be her personal contact with the dead (both form and dream visits with the departed since her first near death experience at age three.)  She will be selling copies of her recently released book (Llewellyn Worldwide Publications, Inc) "Dreaming of the Dead: Personal Stories of Comfort and Hope" and would love to visit with people at her booth about their own experiences and answer any questions they may have.  These are just a few of the fun events awaiting those who dare to undertake this otherworldly end-of-summer experience. Participants will want to linger long and refresh on an abundance of delicious delights for purchase to provide energy for their intense spiritual encounters. Below is a timetable of speakers and topics.
SPEAKERS & TOPICS TIMETABLE
| | | |
| --- | --- | --- |
| Time | Speaker | Topic |
| 10AM | Swami Sadashiva Tirtha   | Spiritual Science |
| 11AM | Marilou Trask-Curtain  | Near Death Experiences |
| Noon | Michael Anthony Russo | Joy of Palm Reading |
| 1PM | Cory Haines | Gypsy rituals; ghostly encounters |
| 2PM | Ann Fisher | The World of the Supernatural |
| 3PM | Cory Haines | Gypsy rituals; ghostly encounters |
READERS 
Shanon Wadingham
Shanon has been a professional psychic, tarot reader and medium for over 25 years with clients all over the world. Shanon can help participants with business decisions, relationship issues, life changes and communication skills.
http://www.seraphimskeep.com/
Rev. Denise M McKee
Denise is an Intuitive Transitional Life Coach, Spiritual Counselor, and Angel Card Reader, certified in hypnosis, creative visualization and Teacher of the Laws of Attraction. She is a Reiki Master, Seven Rays Healer and School of Ascension graduate.
Rev. Corbie Mitleid
Corbie is a Certified Professional Tarot Reader, channeler, trained medium and ordained minister, reading since 1973. Her services today include Tarot, intuitive counseling, spiritual road readings, spirit guide conferences, past life retrieval and mediumship.
http://www.firethroughspirit.com/
Irene Crewel
Irene is a world renowned psychic medium who has devoted her life to her practice. Irene's father was a medium and she has traveled the country and appeared on numerous radio and TV shows.
Betty Ann Petkovsek
Betty Ann of Silver Mist Connections is an Intuitive Psychic Reader and also works with various tools from card to crystals and stones. As a Level II Reiki energy worker, she has also found applying Tuning Fork Toning enhances balance and harmony in relaxation sessions.
Coryelle Kramer
Certified Psychic Medium & Animal Communicator Services: Psychic, Mediumship & Animal Communication consultations, Tarot & Oracle card readings, Spirit & Animal Spirit Guide Discovery.
http://www.insightsofintuition.com/
and
http://www.coryellekramer.com/
VENDORS
Proctors Gift Shop
, selling unique gift items and Proctors logo items.
Glory Haunt Hounds
Glory Haunt Hounds is a Paranormal Investigation/ Event team focused on Historic Locations and Preserving History. They are very active with fund raising, event planning for other groups and Talent Management. John Tobin is the founder and host of the radio show "Keeping the Spirits Alive!" on the Para-X radio network.
http://www.gloryhaunthounds.com/
Shanley Hotel
The Shanley Hotel is a Haunted Hotel situated in the Shawangunk Mountains in Napanoch NY. The hotel was built in 1845 and is said to be home to more than 30 spirits that now call the Shanley their home.
http://www.shanleyhotel.com/
Swami Sadashiva Tirtha
Swami has been offering spiritual healing for more than 35 years and his experiences includes author, swami (monk), shaman, energy healer, certified hypnotist, Ayurveda & Vedic Astrology practitioner.  He blends his spiritual work with cutting edge healing technologies for what he calls, "Instant, Permanent Blessings". These include laser, EEG/heart/brainwaves, biofeedback, hypnosis/NLP. His website offers certification & training, live & online readings, books, herbs, cold Lasers and Brain Training systems & MP3's. 
http://peaceandparadise.com/
Marilou Trask-Curtain
 "Heavenly Communications and Near Death Experiences", her own personal experiences communicating with the dead and her three near death experiences. Product:  Available for sale will be her book, "Dreaming of the Dead: Personal Stories of Comfort and Hope" (Llewellyn Publications, 2012)
http://www.mariloutrask-curtin.com/
The Vermont Herbal Store
Owner Sivvie Lio is a Registered Pharmacist and Herbalist; Reiki Master/Teacher specializing in herbal remedies of all kinds and all Reiki charged; gemstones and gemstone jewelry, healings, readings.
http://www.vermontherbal.com/
Linda Bloser
"Aura Reflections - Your aura is a mirror of the real YOU. Receive an in-depth view from this aura photography expert." 
http://www.aura-reflections.com/
.
Guidestones
Guidestones provides fortune telling stones, and healing gemstone jewelry and accessories designed to bring focus to your personal goals. "Jewelry for your Journey."
http://www.guidestonesjewelry.com/
Tim Keys
Tim is a Reiki Master Practitioner who specializes in Pain Relief. Both the Amethyst BioMat and The Energy Enveloper which Tim uses during his treatments are available for sale at his booth.
Cory Haines
Cory Haines will present a unique reading experience combining magic with reading systems to take the participant on an unforgettable journey of self discovery He will also feature amazing Henna inspired pottery creations and body art from award winning artist Candice Potrafka.
http://www.coryhainesmagic.com/
 and 
http://www.candicepotrafka.com/
SOMETHING FOR EVERYONE
The
psychic-palooza
also will embrace to considerable hands-on contributions from
Proctors History Committee
, which will display memorabilia collected over the years related to performers and shows presented through the years at Proctors.           The
Ancestral Wisdom Bridge Foundation
also will participate. This non-profit charitable organization is dedicated to the ongoing offering of ritual, education & teaching on indigenous African spirit technologies as brought to the West by Dagara Elder, MalidomaSomé, PhD. They offer divination and healing rituals and spirit-medicine training.
http://www.eastcoastvillage.org/
ABOUT PROCTORS
Proctors in Downtown Schenectady, NY, offers more than 1,700 events a year to close to 600,000 visitors and residents of New York State's Capital Region.  As a charitable, cultural and educational non-profit organization, Proctors depends on membership, donations and grants to bring exciting shows and excellent educational and community events to the Capital Region. Income from ticket sales pays for only 67% of the cost of running Proctors.
CONTACT
For more information on the August 25
Psychic Fair
and guided
Ghost Tour
at Proctors, contact
June Grinter
at 
june.grinter@gmail.com