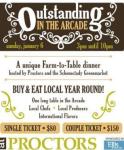 Featuring outstanding creative culinary flair of chefs from Mexican Radio, Mazzone Hospitality, Café NOLA and Tara Kitchen
Sunday, January 6, 3:00 pm, 2013 -- Buy and Eat Local Year Round!
Schenectady, N.Y. --
OUTSTANDING IN THE ARCADE is a unique Farm-to-Table dinner hosted by Proctors and the
Schenectady Greenmarket
.  The festive event is designed to bring the community to the table. This exciting Sunday dinner is focused on farm-to-table awareness and supporting our local farmers. OUTSTANDING IN THE ARCADE will feature a cornucopia of International flavors created by local chefs and prepared from local producers. This meal will be one of a kind! Not only will the culinary team brought together for the event please the discriminating palettes of participants, but the one long, white-clothed table down the center of Proctors Arcade will be totally cool - and the gathering place for interaction and culinary chat! OUTSTANDING IN THE ARCADE is an event to share with neighbors, friends and family!
Cocktails and Hors d' Oeuvres-3pm
Dinner at one LONG table down the center of Proctors Arcade-4pm
Outstanding in the Arcade at Proctors is sponsored by ELLIS Medicine. Proceeds from Outstanding in the Arcade support the Schenectady Greenmarket and Proctors. Ticket Prices: Single Tickets: $80; Couples: $150
More?
For more information please contact Leesa Perazzo, Special Events/Group Sales Manager at 518•382•3884 x187,
lperazzo@proctors.org
About Mexican Radio
Over the past 17 years, Mexican Radio has evolved from a 600 sq. ft  'jaunty, candlelit shoebox' on upper Mulberry Street in New York City to the recent acquisition of the 22,000+ sq. ft Imperial Building at 325 State Street, Schenectady. With their two current locations running at 19 Cleveland Place, NYC and 537 Warren Street, Hudson, NY, Mexican Radio continues to win awards including Best Mexican Restaurant, Best Margaritas and Best Flan in America. Striving to create the fabulous flavors and rustic textures that encompass the basics of Mexican comfort food, Mexican Radio believes that fresh, local food is not only healthier for our bodies, but also feeds and sustains local economies, local communities and family-run independent farms. Mexican Radio is very proud to be part of this farm-to-table dinner and looks forward to being an active proponent of local food sourcing in Schenectady!
About PROCTORS
Proctors in Downtown Schenectady, NY, offers more than 1,700 events a year to close to 600,000 visitors and residents of New York State's Capital Region.  As a charitable, cultural and educational non-profit organization, Proctors depends on membership, donations and grants to bring exciting shows and excellent educational and community events to the Capital Region. Income from ticket sales pays for only 67 percent of the cost of running Proctors.