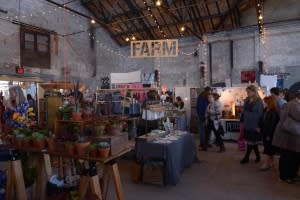 Buy local, farm-fresh, handmade and vintage in the unique setting of Basilica Hudson's reclaimed 1880s factory

Hudson, NY - Farmers, artisans, vintage collectors, chefs and makers of handmade goods will converge at the annual Basilica Farm & Flea Spring Market, little sister to the large-scale Holiday Market that takes place every Thanksgiving weekend. Alongside a range of new family-friendly activities, over 90 local and regional independendent makers, artists, farmers and chefs will take part in the marketplace, making Basilica Farm & Flea Spring Market the largest of its kind in the region.

"As Spring ushers in a new season at Basilica Hudson, we are thrilled to jump into our eighth year of programming with our annual Basilica Farm & Flea Spring Market, in time for Mother's Day gifts and the end of hibernation season celebration," said Melissa Auf der Maur, Basilica Co-Founder and Director.

From hand-crafted home goods to all-natural foods and personal wellness products, 2018's Spring Market will also welcome 45 new vendors to the space, ensuring there is plenty to be discovered, even for regular marketplace-goers.

This year, a special section of family-friendly activities will also be included, with free Mother's Day portraits for mothers and kids in the intriguing and unusual Afghan Photobooth. Local youth organizations Kite's Nest and Perfect Ten will have family-friendly activity booths at the event. Budding gardeners can browse the wares of the Hudson Valley Seed Library, or pick up a plant from Windy Ridge Nursery. A children's juggling group will also keep shoppers entertained.

Locally-sourced, sustainable and healthy meals are at the core of many Basilica Hudson programs, and a range of offerings will be available at Basilica Farm & Flea Spring Market, with light and bright meals by Alimentary Kitchen's Nicole LoBue, Edible Roots' food truck, coffee from No 6 Depot and a bar by Hudson's WM Farmer & Sons.

The marketplace will be open 10AM - 6PM Saturday, May 12 and Sunday, May 13. Visitors can shop handmade and vintage goods, purchase locally-made added-value food products and eat farm-fresh food. General admission for the whole weekend is only $5 and free for children under 12.

Items include hand-carved and turned cutting boards, bowls and spoons; gorgeous handcrafted jewelry; ceramics; wild-foraged health, wellness and beauty products; textiles and paper goods; furniture, light fixtures and elegant home decor; and vintage clothing and objects, paintings, home goods and collectibles.

All participating vendors are independent artists and designers or collectors of high quality vintage wares who espouse the "no barcode" ethos of Basilica Farm & Flea. The agricultural bounty of the Hudson Valley harvest is also a highlight at Basilica Farm & Flea, and visitors can expect food vendors purveying everything from produce, meat, dairy, grains, mushrooms, seeds, herbs, soaps, ciders, tinctures and added value products.

More information on all upcoming programs can be found at basilicahudson.org

ABOUT BASILICA FARM & FLEA
Basilica Farm & Flea launched in 2013 as a holiday alternative to Black Friday shopping, with a carefully-selected variety of makers, collectors and farmers harnessing the spirit and beauty of the Hudson Valley. Basilica Farm & Flea Spring Market followed in 2016, forming a dynamic weekend of celebration and acting as an annual bookend to each year's Holiday Market. With a firm 'no barcode, no plastic wrap' ethos, both markets seek to promote the talents and resources within the Hudson Valley and provide an alternative to mass manufactured products. Set against the beautiful, industrial setting of Basilica Hudson's 1880's repurposed factory, the market is a perfect way to jump into Spring to find an extraordinary array of local, vintage and handmade objects, representing the abundance and splendor of the Hudson Valley.

ABOUT BASILICA HUDSON
Basilica Hudson is a non-profit multidisciplinary arts center supporting the creation, production and presentation of independent and innovative arts and culture while fostering sustainable community. Founded in 2010 by musician Melissa Auf der Maur and filmmaker Tony Stone, Basilica Hudson makes its home in a spectacular solar-powered reclaimed 1880s industrial factory on the waterfront of the historic City of Hudson. Weekend destination events comprise the core of Basilica Hudson's Immersive, avant garde music, performance, film, food and literary programming, alongside regular film screenings series, art exhibitions, and other community gatherings.

Basilica Hudson presents more than 35 programs each season, from one-night screenings to weekend festivals, anchored by major annual events including two music festivals and two large-scale marketplace events, as well as film screening series, art exhibitions, special performances, concerts, and literary and food-related events. The artistic program has taken shape through collaborations with many partners, visiting artists and friends, and is supported by adventurous audiences and community members. Each season, more than 75 local, national and international artists perform and present work at Basilica and 100+ local and regional businesses - farmers, chefs, collectors and makers of all kinds - participate in marketplace events, showcasing the region's artisanal and agricultural heritage. Basilica Hudson welcomes more than 40,000 local, regional and international visitors to programs and events each season.

Visit basilicahudson.org for more information on all upcoming events this season.