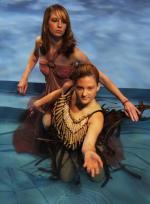 New Paltz, NY -
Playwright Mary Zimmerman's award-winning
Metamorphoses
is more than a revisiting of Ovid's ancient text - it is a contemporary re-imagining of his timeless tales.  
Metamorphoses
, recipient of the 2002 Tony Award, Obie Award and Drama Desk Award, will be performed Nov. 12 - 22, in McKenna Theatre at the State University of New York at New Paltz. The play is directed by Nancy Saklad, assistant professor of performance at New Paltz. Ovid's
Metamorphoses
is brought to light by Zimmerman in an adaptation that juxtaposes the ancient and the contemporary, the comic with the sorrowful within the context of transformation. It is deeply moving and humorous, weaving familiar Greek mythology into a stunning exploration of love, loss, memory, imagination and the power to adapt and endure. Set in and around a large pool of water onstage,
Metamorphoses
is a poignant piece about transformation. Water, known for its mutable properties is the backdrop for the play.  It possesses an astonishing capacity for transformation.  It can become ice, mist and fog. It rains, it pours, it showers and it drips.  It cleanses, quenches thirst and even drowns. In the best of times water humbles. In lesser times, water tortures.   In this play,  water - the pool - is a metaphor for the ever-shifting tides of life's transformations and a physical and emotional reality to the characters who traverse it, who wrestle with it, who immerse themselves in it and to those who release themselves to it. The tales included in the play are
Midas
, who is granted the power to turn everything he touches to gold;
Alcyone and Cexy
, a pair of lovers whose love lives on beyond Ceyx's death;
Myrrha
, the story of a young girl who is cursed by Aphrodite for not seeking romantic love;
Orpheus and Eurydice
, a tale in which Orpheus goes to the underworld to seek his wife after their death. This tale is unique in that it is told twice-once in the classic fashion and once as told by German poet Rilke. These two perspectives offer a classic and feminist viewpoint;
Baucis and Philemon
, a beautiful ensemble piece about humility and abundance;
Eros and Psyche
, cleverly told using classic characters and two contemporary teenagers to capture two perspectives on love and romance;
Phaeton
, re-imagined with young Phaeton, whose father is Apollo, the sun, destroyed the earth and himself when he took the keys to his fathers car (chariot), drove too close to the earth and destroyed it. In this particular rendition Phaeton is in session with a psychologist who bandies Jungian and Freudian theories of individuation;
Narcissus
is the classic tale of a young man who falls in love with his own image and is frozen by it, and finally
Erysichthon
whose greed becomes his downfall when he cuts down a sacred grove of trees that belongs to the goddess Ceres. He is cursed with an insatiable hunger and ends up devouring himself. Commenting on the play, Saklad said, "One of the key themes of
Metamorphoses
is the notion that we are giving 'scant attention to our mythic side' these days. The play states that, 'myths are public dreams,' and 'dreams are private myths.'  Zimmerman allows us to take a mythic glance at who we are when we neglect self, when we neglect community, and when we love."
About the director
Nancy Saklad is an assistant professor of performance at New Paltz. When not teaching, she directs, and coaches voice and acting. Favorite directing credits include
Much Ado About Nothing
at Boston's Publik Theatre,
How I Learned To Drive
at Durham Center Stage and
Other People's Money
at Seacoast Repertory Theatre. She also directed the Professional Division Moss Hart Award winning production of
The Diary of Anne Frank
at Seacoast Repertory Theatre in Portsmouth, NH and numerous other plays.  Saklad has taught acting, voice and directing at the University of Miami, Fla., the University of New Hampshire, Regis College in Mass., Queens College in New York City, and The American Musical and Dramatic Academy in New York City. Saklad is also a recipient of the Kennedy Center-American College Theatre Festival Bronze Medallion for service to the New England Region. She is a certified Fitzmaurice Voicework practitioner and is also certified in Michael Chekhov acting technique. Over the past few years she has been affiliated with the acclaimed Pearl Theatre in New York City as a Fitzmaurice Voicework coach and consultant.
Related events
Metamosphoses
: Post-performance Talk-back Nov. 13 and 21. The director, cast and dramaturges will talk about the process for
Metamorphoses
.
Ticket information
Performance dates for
Metamorphoses
are Nov. 12, 13, 14, 19, 20, and 21 at 8 p.m., and Nov. 15 and 22 at 2 p.m.  Ticket prices are $16 general reserved, $14 reserved students, SUNY faculty and staff, seniors - available on line at
www.newpaltz.edu/theatre/productions.html
, and at the Box Office, located in Parker Theatre, (845) 257-3880, Monday - Friday, 11:30 a.m. - 5 p.m. The Department of Theatre Arts
Mainstage 1009-2010 season
continues in the Spring with
Fresh Dance,
Yoav Kaddar, Artistic Director and
Babes in Arms
, by Rodgers and Hart, directed by Paul Kassel.
-30-
The State University of New York at New Paltz was named "Hottest Small State School" in the 2008 Kaplan/Newsweek How To Get Into College Guide, which identifies America's 25 Hottest Schools. The guide features schools that all offer top academic programs and are making their mark in the competitive world of higher education.
New Paltz is a highly selective college of about 8,000 undergraduate and graduate students located in the Mid-Hudson Valley between New York City and Albany. Degrees are offered in the liberal arts and sciences, which serve as a core for professional programs in the fine and performing arts, education, business and engineering.
Contact: Eric Gullickson                                                                         (845) 257-3245
Note to editors:
Director Nancy Saklad is available for interviews. Call 845-257-3860. A hi-resolution image is available at www.newpaltz.edu/news/images/Metamorphoses.html.