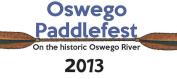 Paddlers to 'Rock the Locks' from Minetto to Oswego June 29
Oswego, N.Y.
- Paddlers and spectators have a chance to win a new Perception Prodigy 12 kayak valued at $700 at the Oswego "Rock the Locks" Paddlefest Saturday, June 29. The 12-foot Prodigy weighs 53 pounds and is designed for user-friendly comfort with a water-tight storage compartment to carry gear. The kayak package comes with a paddle and personal flotation device and is donated by Benjamin Turner of Murdock Sports and Jake Mulcahey of Pinnacle Construction. The drawing benefits the Oswego YMCA Strong Kids campaign and Oswego Harborfest. Tickets are $5 each or three for $10 and are available at the YMCA on West First Street, Oswego Harborfest, Lake Street, Murdock's Sports, West First Street, the Oswego Farmers' Market on Thursday evenings, and members of the organizing committee. "Rock the Locks" Oswego Paddlefest will begin at Riverview Park in Minetto at 10 a.m. June 29 and continue to Lock 8 in Oswego, traveling through four locks of the historic Oswego River Canal along the way. Kayakers and canoeists of all ages and abilities are encouraged to enter the event. At the conclusion of the paddle, there will be food and commercial vendors, children's games, live music, and other activities near Lock 7 in Oswego. A free shuttle bus will take paddlers from the ending point back to Minetto where they can pick up their vehicles when the event is over. Paddlefest pre-registration is $25 for canoes and $20 for kayaks, and includes a meal.  Additional meal tickets may be purchased. All paddlers will be entered into the drawing for a kayak, paddle and pfd. Single and tandem kayak rentals are available at a discounted rated for Paddlefest through River Run Kayak. For details contact Rich Walberger at
315-593-9895
, email
Riverrunkayak@gmail.com
Harborfest will hold a $1 floating "buck-a-ball" drawing in the river near Lock 7 at 3 p.m. Tickets for the "buck-a-ball" and a Harborfest 50-50 drawing may be purchased at Paddlefest and at the Harborfest office, 41 Lake St., Oswego. Paddlers may pre-register online at
http://www.ezracereg.com/
or register beginning at 8 a.m. June 29 at Riverview Park in Minetto. Registration on June 29 will be $30 per canoe and $25 per kayak. Rock the Locks Paddlefest is sponsored by Oswego Harborfest and the Oswego YMCA with support from Brookfield Power, the NYS Canal Corporation, Town of Minetto, City of Oswego, Murdock Sports, Fitzgibbons Insurance, Oswego County Sheriff's Office, Oswego County Yakkers, U.S. Coast Guard Auxiliary, and Oswego County Department of Community Development, Tourism and Planning. For more information call the YMCA at 315-343-1981 or go to
http://www.ezracereg.com/
, or contact Oswego Harborfest, phone 315-343-6858. For accommodations and visitor information in Oswego County, go to
http://www.visitoswegocounty.com/
.
###
Contact
Oswego YMCA
315-343-1981
Oswego Harborfest
315-343-6858